Rejuvenate Your Crete Property with Expert Parking Lot Line Striping and Asphalt Repair Services
Welcome to Crete, NE, where property managers like you aim to have parking lots that are a credit to the city. If crumbling asphalt and faded lines are getting in the way of this goal for you, then EverLine Coatings is your answer. Our expertise covers parking lot line striping, as well as asphalt sealcoating and asphalt repair. Ready for a property transformation? We can handle it for you.
With EverLine Coatings as your local partner, parking lot repairs don't have to be a hassle.
Parking Lot Line Striping
In order to have a safe and easy-to-use parking lot, you need clear lines that are visible in all weather conditions. Clearly marked parking bays are essential to help drivers make good use of the space when parking, while cycle lanes, crosswalks, and walkways help to keep walkers and cyclists safe. EverLine Coatings excels in parking lot line striping. We black out the old lines, ensuring clarity when we paint the new ones. We use the best traffic coating brand in the industry, TBL Durables, to create lines that last.

Are cracks, potholes, and wear and tear starting to affect your asphalt? EverLine Coatings specializes in a technique known as infrared asphalt repair, which can get rid of all these problems.
We clean the surface, apply fresh asphalt to fill in any holes or cracks and use infrared heat to combine the new material with the existing pavement. This method gives high-quality, long-lasting results.
We can tackle any kind of damage, from extensive potholes to asphalt that is just starting to crack, so please give us a call today.
Our Pavement Maintenance Work
Before
After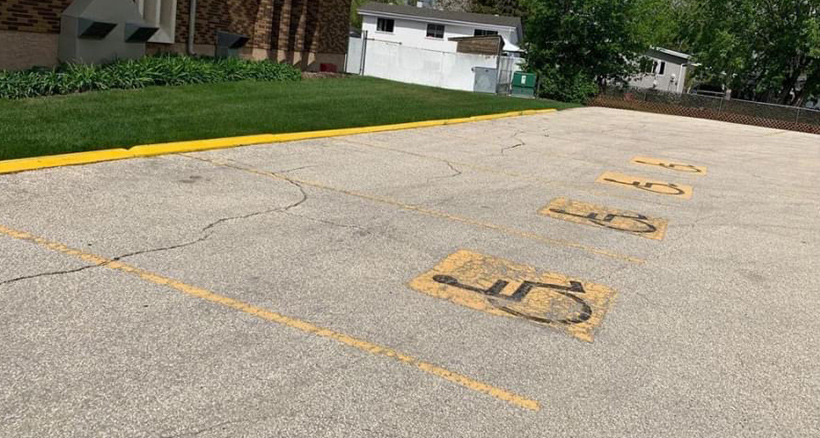 Did you know asphalt sealcoating is the best way to extend pavement lifespan? Our process, which involves applying a double layer of sealant, stops water from penetrating into your asphalt. This in turn prevents cracks from developing and therefore keeps your pavement looking fresh. By taking the time to seal your asphalt today, you could save yourself from the costs of parking lot repair in the future.
EverLine Coatings is the best choice for asphalt sealcoating, as we never dilute our sealants and we take great care to ensure full and even coverage.
Choosing EverLine Coatings and Services for Crete Parking Lot Repairs
At EverLine Coatings, we work hard to make parking lot repairs hassle-free for property managers, by coordinating every aspect of the repair project. We know that customers judge a business by how the property looks, which is why we strive to deliver great results for every job we take on in Crete.
We love the sights and sounds of this city, from the tranquility of Tanglewood Lake Wildlife Management Area to the cultural importance of the Historic Isis Theater. Property and facility managers in Crete trust us to deliver long-lasting results. Ready to improve your parking lot so that it becomes an important asset for your business?
Contact us today for a free quote!