EverLine's Custom Stenciling
Lincoln, Nebraska is a wonderful place to run a business. Nebraska is regularly ranked as one of America's top states to do business, and the city has over 290,000 residents who make great customers and employees. It's a city where you can work hard and play hard, spending your days off wandering the Sunken Gardens, taking in some culture at the Sheldon Museum of Art, or simply enjoying the fabulous bars and restaurants the city has to offer. However, it's also a city with high standards, and your parking lot needs to stand out from the moment potential customers arrive. With custom stenciling by EverLine, you can make your parking lot look incredible and unique.
Impress Customers With Custom Stenciling
EverLine can create a versatile range of custom designs, ensuring that they perfectly suit your business needs. For example, you may want to add some designs required by law, such as those that show where accessible parking is located. However, you may just want to make your lot easier to use, with signs for parent and child parking or arrows to keep traffic flowing.
Custom stencils are also a great way to enhance branding, whether you want to add a fun slogan, show off your business colors, or introduce customers to a new logo. You could also add some fun, colorful designs to give a playful twist to any lot. With our custom stenciling service, you're in charge of what we create.
Why Choose EverLine For Custom Stenciling
At EverLine, we've spent a lot of time reviewing data sheets and manufacturer guidelines, to ensure that the products and techniques we're using are right. We have a deep knowledge of different methods, and every member of our crew has taken our training course to make sure they're completely ready. 
Communication is a top priority throughout the process, so you never have to chase us up for information, and we're committed to creating unique designs that last a long time despite heavy traffic. Not sure what you want? We can talk through the options to create something that's perfect for you!
Additional Line Painting Services
In addition to our custom stenciling services, EverLine Lincoln offers other line painting services, such as parking lot line painting and interior line painting.
Create bright, durable traffic markings to minimize liabilities and improve the flow of vehicles in your property's busy lot with our parking lot striping service.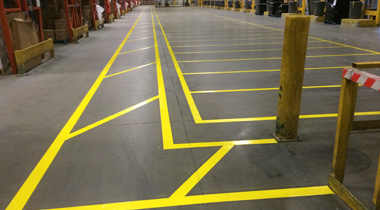 Convey safety messages, enforce boundaries, and communicate the correct way for people and vehicles to move in your bustling building with our interior line painting service.
Our Custom Stenciling Work
Before
After
Lincoln's Top Choice for Custom Stenciling
You couldn't choose a better place to run a business than Lincoln, but we know that life and business in this stunning city can be fast-paced and challenging. If you feel like you have too much on your to do list, consider letting us deal with your parking lot stenciling. Get in touch with EverLine to discuss your options and get a free quote!
Lincoln, NE EverLine Office
Serving the Greater Lincoln, NE area, including:
Lincoln
Hickman
Waverly
Milford
Crete
Wilber
Syracuse
Sewrd