Hickman Line Striping & Asphalt Repairs
Welcome to charming Hickman, NE, where property managers are always on a quest for better parking lots. Enter EverLine Coatings! We're experts in parking lot line striping, parking lot repairs, and asphalt sealcoating. Ready to uncover the transformative power of our asphalt repair services? While we take care of your Hickman parking lot, how about a family day at the popular Hickman Park, a true local gem? Or explore history at the Hickman Depot Museum.
Hickman is a town we love, which is why we are so proud to be your local partner in parking lot improvements.
Parking Lot Line Striping in Hickman
Clear, crisp lines in your parking lot are essential. They guide drivers to help them park considerably. Specialized markings like walkways and crossings can help keep pedestrians safe. EverLine Coatings excels at parking lot line striping. We don't just paint over old lines; we black them out, ensuring clarity for everyone. Plus, we use TBL Durables traffic coating to give you lines that last for years. This is one of the best brands on the market, with unmatched longevity.

Signs of wear showing up on your asphalt? Perhaps there are cracks, or even potholes starting to develop. Either way, there is no need to panic. EverLine Coatings specializes in asphalt repair, and we can take part in your Hickman parking lot. We clean the damaged areas carefully, then apply fresh asphalt to cover the cracks, fill the potholes, and use infrared heat to blend it carefully.
The results last a long time and can make a big difference to how good your parking lot looks and how pleasant it is for drivers to use.
Our Pavement Maintenance Work
Before
After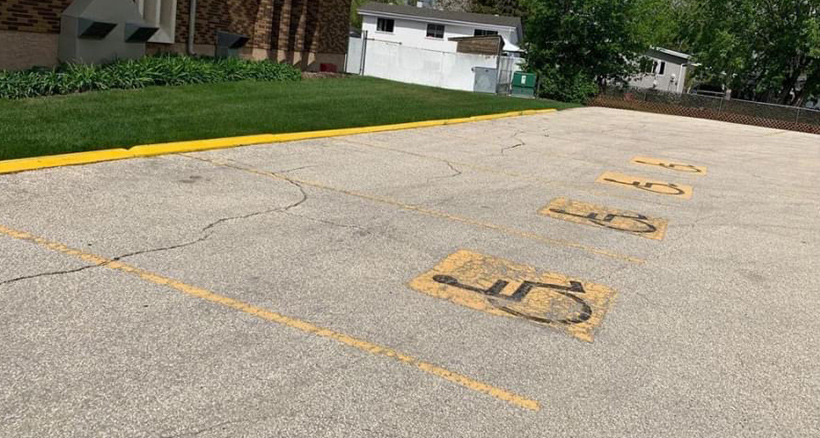 Did you know that it is possible to extend the life of your pavement, freeing it from the effects of wear and tear that can cause asphalt to crumble? Our asphalt sealcoating service prevents cracks before they even begin. We apply two layers of undiluted sealant to give you the strongest possible protection, and you can rely on us to use products of the very highest quality.
Our sealcoating service is a very cost-effective way to look after your parking lot. By investing in sealcoating today, you could reduce the chance of needing to make parking lot repairs in the future.
What Makes EverLine Coatings and Services the Ideal Choice for Parking Lot Repairs in Hickman
We make parking lot management hassle-free. With technical expertise, detailed specifications, and a commitment to delivering the best possible results, we're your trusted partner when it comes to parking lot repairs in Hickman.
From the peaceful atmosphere of Stagecoach Lake State Recreation Area to the bustling downtown area, Hickman is a fantastic city to call home. If you need a little help getting your parking lot to live up to the standards of this fabulous town, you can always call EverLine Coatings for parking lot repairs, asphalt sealcoating, and parking lot line striping. Property and facility managers in Hickman trust us to deliver long-lasting results, thanks to our long-established record of delivering great service. Ready to enhance your Hickman parking lot?
Contact us today for a free quote!