Parking Lot Signs & Bollard Cover Installation
In the vibrant heart of The Triangle, where Raleigh's Pullen Park and the serene Sarah P. Duke Gardens captivate visitors, EverLine Coatings is your go-to for premium parking lot signs and bollard cover installation. As a property or facility manager, you're seeking hassle-free solutions that enhance safety and aesthetics. EverLine Coatings can help you transform your parking lot into a well-organized and visually appealing space.
Signage Installation in Raleigh, Durham & Chapel Hill
Parking lot signage is a powerful tool to direct and inform. At EverLine Coatings, our signage installation service caters to your property's unique needs. From clearly marked parking spaces to directional signs that ensure smooth traffic flow, our signs not only enhance order but also improve safety. Our dedication to technical knowledge ensures that your signs are compliant with regulations, providing confidence to property managers.
Bollard Covers in Raleigh, Durham & Chapel Hill
Bollards, while essential for safety, can also be an opportunity to add flair to your property. EverLine Coatings' bollard cover installation service strikes the perfect balance between protection and aesthetics. Our covers not only shield bollards from the elements but also come in various colors and styles, seamlessly complementing your property's design. We guarantee a bollard cover installation that enhances your property's appeal.
Why Choose EverLine for Triangle Signs and Bollard Cover Installation?
We understand the complexities that property and facility managers face in the Triangle region. That's why EverLine Coatings is on a mission to simplify your experience of upgrading your parking lot. Our technical expertise in pavement maintenance extends to signs and bollard cover installation. We ensure your project is coordinated seamlessly, leaving you free to focus on other responsibilities. Additionally, our commitment to full satisfaction means you receive a thorough evaluation of your project, complete with before and after photos.
Our Pavement Maintenance Work
Before
After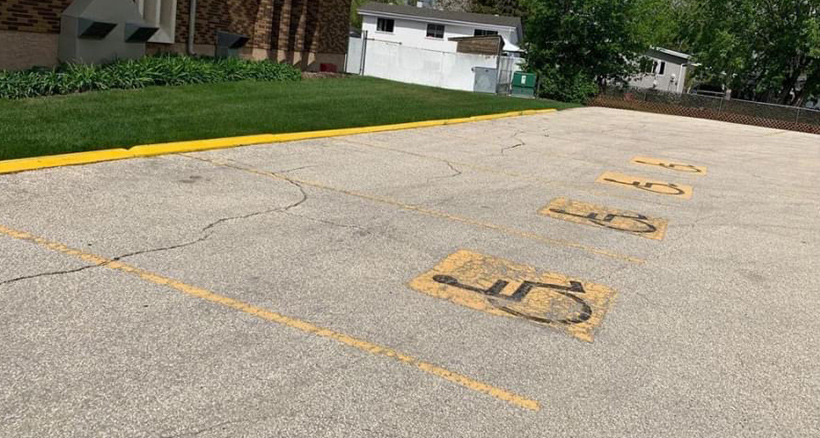 The Triangle's Signs and Bollard Cover Installation Service From EverLine Coatings
Amidst the vibrancy of The Triangle, EverLine Coatings' signs and bollard cover installations add a special extra touch. Just as the North Carolina Museum of Art draws in visitors, and the Eno River State Park offers tranquility, our services can enhance the appeal of your property. Whether your property is in Raleigh, Durham or Chapel Hill, our expertise can improve its parking lot. Contact us today for a free quote!
The Triangle EverLine Office
Serving the Greater Raleigh, Durham, & Chapel Hill, NC area, including:
Raleigh
Durham
Chapel Hill
Cary
Wake Forest
Morrisville
Apex
Holly Springs
Fuquay-Varina
Clayton
Garner
Knightdale
Wilson's Mills