EverLine's Asphalt Pothole Repair Services
Your parking lot is one of your business' biggest assets and is one of the first things your customers will notice about your business. This means that it needs to make a good impression, whether you're part of Kansas City's vibrant foodie scene or its quirky independent shopping sphere. Potholes, cracks, and worn asphalt are sure to put people off, so EverLine Coatings and Services has created long-term asphalt repair solutions to keep your lot looking incredible.
EverLine's Efficient, Long-Lasting Infrared Asphalt Pothole Repair Service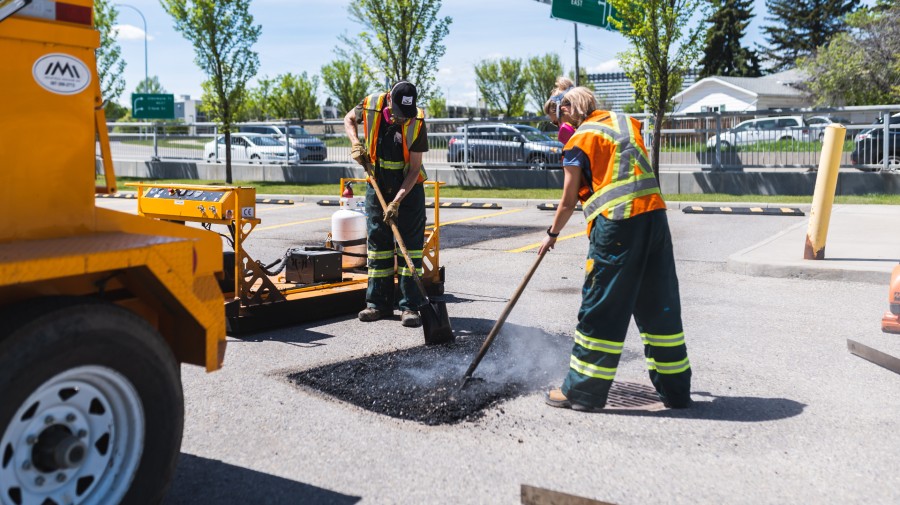 It's easy for a parking lot to become worn and cracked over time, and for small cracks to develop into large potholes. However, this can make your lot look uncared for, and potholes can damage cars and cause injuries to pedestrians. It's important to get the cracks and holes fixed, so you can make a great impression and avoid accidents.
EverLine's Asphalt Pothole Repair Process
Our innovative infrared asphalt repair process is designed to fix potholes and cracks in a way that'll last. We begin by heating up the affected area of asphalt to 300-350 degrees so that it melts and can be used like new asphalt. This means this method uses very few resources, making it cost-effective. We'll then add fresh asphalt to fill the hole or crack, before compacting it to make sure the repair lasts a long time.
By choosing to work with EverLine, you're ensuring that your work is carried out by an experienced, qualified small crew who will keep you updated at every step of the process, meaning you can feel free to focus on other aspects of your business. Our process also ensures minimal disruption to your business, as you can use your pavement after as little as 30 minutes. We can also protect your newly repaired pavement with our asphalt sealcoating service.
Our Asphalt Pothole Repair Work
Before
After
Invest In Your Parking Lot With EverLine's Asphalt Pothole Repair Service
At EverLine, we know that although Kansas City is a great place to own a business, it's also competitive, and residents tend to have high standards. The best way to keep your parking lot looking great is a long-term, comprehensive maintenance program such as our Preventative Pavement Maintenance Program, which can double the lifespan of your pavement.
If you want to ensure your business is the pride of Kansas City, get in touch with EverLine for a quote today.
Kansas City EverLine Office
Serving the Greater Kansas City area, including:
Kansas City, MO
Kansas City, KS
Leavenworth
Overland Park
Lee's Summit
Liberty
Lansing
Olathe
Shawnee
Parkville
Pleasant Valley
Blue Springs