Kansas City Bollard Cover Installation & Parking Lot Signs
Kansas City has a lot to offer for every type of person, whether you enjoy visiting the Boulevard Brewery, catching a football game at Arrowhead Stadium, or shopping at City Market. It's also a fun, rewarding place to be a business owner, with over half a million residents to attract to your premises and a thriving local business community. If you want to make a good first impression and live up to the standards of this stunning city, great parking lot signage and vibrant bollard covers can really help.
Enhance Your Parking Lot With Signage And Bollard Covers
Parking lot accessories like signs and bollard covers have many advantages for business owners. Whether you want to make your lot safer, reinforce your rules, or simply enhance your business branding, we can help you choose the perfect accessories.
EverLine's signage is attractive and clear, and we can help you decide where to place it for the best effect. Our signs can be used to display speed limits, show users where they can walk and park, direct a smooth flow of traffic, and let people know where to cross. This will help to make your lot easy to use and navigate while also keeping drivers and pedestrians safe.
Bollard Cover Installation
Our vibrant, durable bollard covers come in a range of colors, so they're perfect for boosting your business branding and improving the appearance of your lot. Their visibility also helps to avoid scrapes and accidents, and their design means you don't need to spend valuable time scraping and repainting bollards.
Our Pavement Maintenance Work
Before
After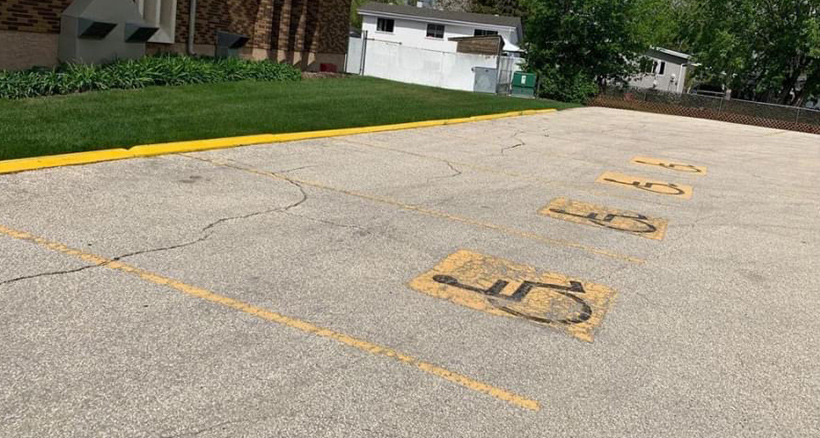 EverLine: The Best Choice For Your Signs And Bollard Covers
EverLine uses only the best products and techniques, and we can help you work out exactly what your business needs. We'll use small, experienced crews to minimize business disruption and we'll keep you in the loop throughout. We coordinate your project so you don't need to worry, and we end every project with a full evaluation to make sure you're happy with your results.
It's natural to want your business to live up to the high standards of Kansas City, and having a clear, easy-to-navigate parking lot is a big part of that. EverLine can help you reinforce your rules, direct customers, and generally provide a more pleasant experience to every user of your parking lot. Get in touch to discuss your options and get a quote.
Kansas City EverLine Office
Serving the Greater Kansas City area, including:
Kansas City, MO
Kansas City, KS
Leavenworth
Overland Park
Lee's Summit
Liberty
Lansing
Olathe
Shawnee
Parkville
Pleasant Valley
Blue Springs