Custom Stenciling for your Kansas City Business
Kansas City is often ranked as one of the best cities in the US to own a business, and for good reason. Half a million residents are justifiably proud of their city and always looking for the best things to do and buy, while the state's great economy and local business community help to make your experience a rewarding one. However, your parking lot, which forms the first impression of your business, needs to make an immediate impression. With EverLine's crisp, vibrant custom stenciling, you can make your lot stand out in the best way.
Impress Your Customers With Custom Stenciling
There are many different uses of custom stenciling, and we can help you create something that perfectly suits your unique business needs. You might want to show off a brand-new logo or enhance your branding with an image or slogan. We can also create unique designs that add playfulness to your lot, or navigational arrows that avoid confusion and bottlenecks. EverLine is also experienced at creating regulation signage, such as symbols for accessible parking. Whatever designs and graphics you can think of, we can bring to life.
Why Choose EverLine For Custom Stenciling
Before we start any of our projects, we review data sheets and manufacturer guides to choose the perfect techniques and products, ensuring your investment lasts. All our team members have taken a thorough study and training course to make sure they're good at what they do. We'll work quickly and efficiently, making sure we completely black out any old designs so your new designs look crisp and clear, and we use the best products for a truly vibrant look. Our range of custom stencils is wide, and we'll help you choose something that meets all your needs.
Additional Line Striping Service in Kansas City
EverLine also offers additional line striping services, such as parking lot line striping and interior line painting for stores, warehouses, and other facilities.
Create bright, durable traffic markings to minimize liabilities and improve the flow of vehicles in your property's busy lot with our parking lot striping service.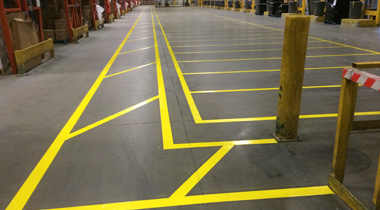 Convey safety messages, enforce boundaries, and communicate the correct way for people and vehicles to move in your bustling building with our interior line painting service.
Our Custom Stenciling Work
Before
After
Kansas City's Top Choice for Custom Stenciling
There's sure to be a lot on your plate as a Kansas City business owner. Letting us deal with your custom stenciling will take a weight off your mind. If you're interested in EverLine Coatings' services, contact us for a free quote!
Kansas City EverLine Office
Serving the Greater Kansas City area, including:
Kansas City, MO
Kansas City, KS
Leavenworth
Overland Park
Lee's Summit
Liberty
Lansing
Olathe
Shawnee
Parkville
Pleasant Valley
Blue Springs