Twin Cities Parking Lot Signs & Bollard Cover Installations
Create a well-organized and safe parking lot in Minneapolis and St Paul, MN with effective signage and protective bollard covers. EverLine Coatings offers high-quality parking lot signs and durable bollard covers designed to enhance functionality, streamline traffic, and safeguard your property. Trust us to deliver top-notch solutions that leave a lasting positive impression on your visitors.
Signage Installation in Minneapolis and St Paul
Ensure smooth traffic flow and minimize confusion with clear and visible parking lot signs. EverLine Coatings provides a variety of signs, including directional arrows, speed limit indicators, and accessible parking signs. Our customized signage plans cater to your specific needs, ensuring durability, legibility, and a well-organized parking environment in the Twin Cities.
Bollard Covers in the Twin Cities
Ensure visibility and safeguard your property with EverLine Coatings' reliable bollard covers. Our covers guarantee that your bollards won't go unnoticed, effectively guiding traffic and minimizing the risk of collisions. Experience increased safety, protect your premises, and provide a secure environment for visitors in the Twin Cities.
Why Choose EverLine Coatings for Signs and Bollard Cover Installation?
Choose EverLine Coatings for your parking lot signs and bollard covers in the Twin Cities and experience excellence in parking lot solutions. Our experienced team handles every aspect of the project, delivering durable and visually appealing solutions that enhance safety and organization. After the project, we carry out a full evaluation to ensure it has been completed satisfactorily. You get a report with before and after photos to refer to. In addition, we aim to make signs and bollard cover installation as easy as possible for you. We'll ensure your project is coordinated properly so you can focus on the other aspects of your job.
Our Pavement Maintenance Work
Before
After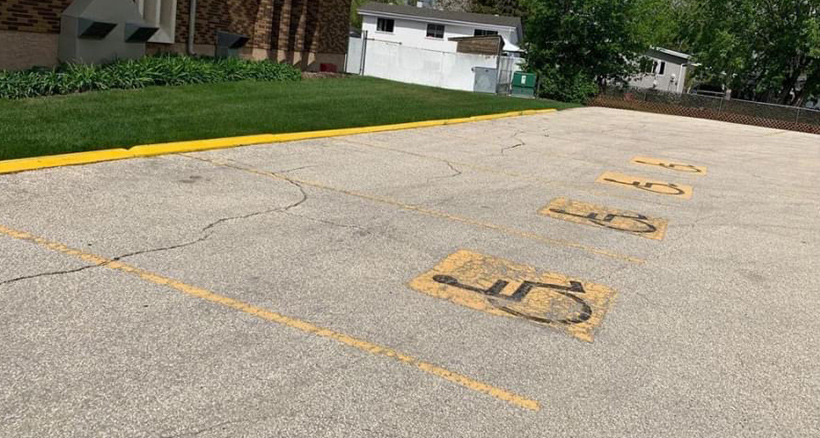 EverLine Coatings Parking Signs and Bollard Cover Installation in Minneapolis and St Paul
From exploring the art scene in Minneapolis to visiting the beautiful historic sites of St. Paul, the Twin Cities offer a diverse range of experiences. Tourists and locals alike love to visit the iconic Mall of America, one of the largest shopping malls in the United States. It's also possible to take a guided tour of the Minnesota State Capitol to admire its stunning interior, including the rotunda, Senate and House chambers, and the Quadriga sculpture. By investing in parking lot signs and bollard covers from EverLine Coatings, you contribute to the overall appeal and safety of this famous region. Contact us today for a free quote!
Minneapolis & St. Paul EverLine Office
Serving the Greater Twin Cities area, including:
Minneapolis
Bloomington
Brooklyn Park
Plymouth
Woodbury
Maple Grove
Blaine
Lakeville
Eagan
Burnsville
Eden Prairie
Coon Rapids
Apple Valley
Minnetonka
Edina
St. Louis Park
Shakopee
Maplewood
Cottage Grove