St. Paul Line Striping & Asphalt Repair
As a property manager in St. Paul, MN, home to the iconic Minnesota State Capitol, Como Park Zoo & Conservatory, and the vibrant Grand Avenue, you strive to create an exceptional parking experience for visitors. EverLine Coatings is your trusted partner in achieving this goal. We offer comprehensive parking lot line striping, asphalt repair, and sealcoating services to enhance the functionality, safety, and aesthetics of your commercial pavement.
St. Paul Parking Lot Line Striping
At EverLine Coatings, we understand the importance of clear and well-defined line markings in your parking lot. Our team utilizes premium-quality products, including the renowned TBL Durables traffic coatings, which can last much longer than other brands of paint. Whether you need us to freshen up existing markings or design a new layout, we pay meticulous attention to detail to ensure durable, precise, and visually appealing line markings that enhance traffic flow and improve parking efficiency.



Asphalt Repair in St. Paul
Over time, your St. Paul parking lot may start to develop cracks, potholes, or other pavement issues. Our experienced team at EverLine Coatings specializes in professional asphalt repair to get your pavement back into perfect condition. We employ proven repair methods, including infrared asphalt repair, to address the specific needs of your parking lot. This method uses minimal amounts of new material to create a seamless repair that can stand the test of time.
Our Pavement Maintenance Work
Before
After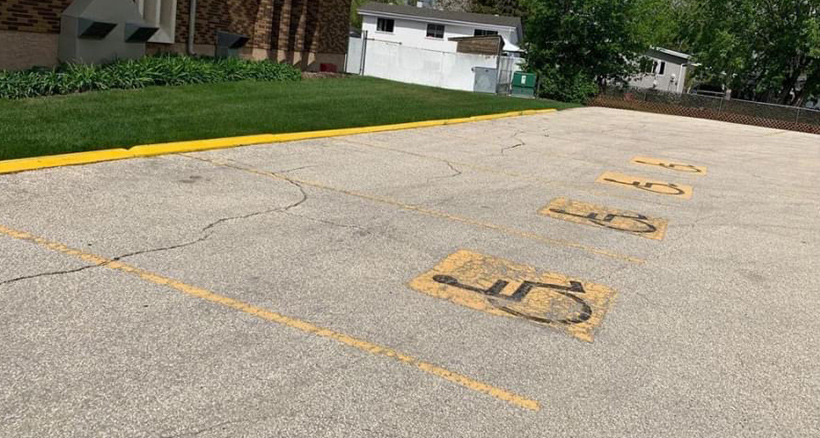 St. Paul Asphalt Sealcoating
To protect your parking lot from the harsh Minnesota weather and daily wear and tear, EverLine Coatings offers high-quality asphalt sealcoating services. Our sealcoating process involves the application of a protective double layer of sealant over the asphalt surface, effectively sealing it against water penetration and protecting it from damage. Asphalt sealcoating can prevent premature deterioration and maintain your pavement's sleek, black appearance. With our sealcoating service, your pavement will withstand both heavy traffic and bad weather, saving you money on costly parking lot repairs in the long run.
EverLine Coatings and Services: Your Path to Superior Quality and Satisfaction
At EverLine Coatings, we pride ourselves on providing exceptional customer service and top-quality results. We understand that as a property manager, your time is valuable. That's why we ensure a hassle-free experience, handling every aspect of your parking lot repair project with experienced professionalism. Our commitment to aesthetic excellence means that we don't just paint over old line markings. We take the extra step of blacking out the old marks, ensuring that the new lines are clean, vibrant, and truly stand out. With EverLine Coatings, you can expect professional guidance, reliable solutions, and a partnership dedicated to the success of your property.
Revitalize Your Parking Lot: St. Paul's Finest Parking Lot Repairs by EverLine Coatings
As a local contractor in St. Paul, EverLine Coatings is proud to serve the community and contribute to its vibrant atmosphere. St. Paul offers a wide array of attractions and landmarks, including the historic Cathedral of Saint Paul and the tranquil Rice Park. With our local expertise and commitment to excellence, we tailor our parking lot repair services to meet the unique needs of St. Paul property managers. Take the first step in enhancing and protecting your commercial pavement today by contacting EverLine Coatings for a free quote.
Minneapolis & St. Paul EverLine Office
Serving the Greater Twin Cities area, including:
Minneapolis
Bloomington
Brooklyn Park
Plymouth
Woodbury
Maple Grove
Blaine
Lakeville
Eagan
Burnsville
Eden Prairie
Coon Rapids
Apple Valley
Minnetonka
Edina
St. Louis Park
Shakopee
Maplewood
Cottage Grove