EverLine Coatings' Asphalt Pothole Repair Services
Your parking lot's surface may have several cracks, fissures, and potholes due to the harsh winters in Minneapolis and St Paul, MN where temperatures regularly drop far below freezing. It's all too easy to neglect the condition of your parking lot as a busy property manager, as you undoubtedly have a lot on your plate. Nonetheless, it's crucial to schedule asphalt repair work when it is needed. In addition to being unsightly, potholes are hazardous for both motorists and pedestrians.
EverLine Coatings and Services offers asphalt repair services in the Twin Cities. Our pothole repair service is fast, dependable, and produces a high-quality finish.
Asphalt Pothole Repair in the Twin Cities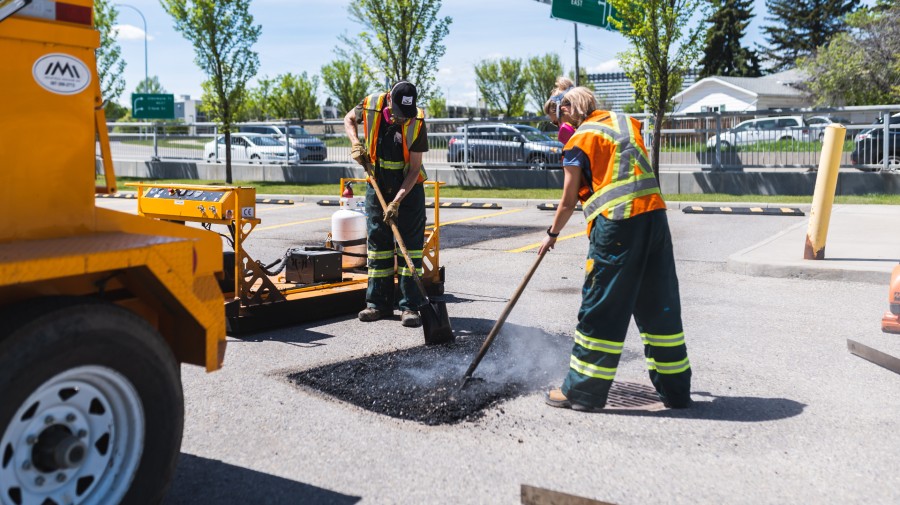 EverLine Coatings specializes in infrared asphalt pothole repair, which is a cutting-edge pothole repair technique. We employ infrared radiation to heat the surface. This makes the old asphalt pliable and easy to blend with the new asphalt that we use to patch potholes.
We clean up any debris and dry the area before filling a pothole or sealing up a crack. This initial step helps to ensure a seamless transition between the new and old asphalt.
At EverLine Coatings, we only employ asphalt repair methods that are likely to last. Our repair technique ensures that water cannot permeate the surface and create new fractures.
Join our Preventative Pavement Maintenance Program if you're serious about getting the most out of your pavement. This method can increase the pavement's lifespan by twofold, saving you money over the long run.
We know that your routine as a property manager is hectic. We therefore make an effort to simplify the repair procedure as much as possible for you. Your project will be expertly planned, so you can unwind and let our seasoned team handle the difficult work.
EverLine Coatings' Asphalt Pothole Repair in the Twin Cities
The Twin Cities, Minneapolis and St Paul, are located in a stunning part of the country. Outdoor enthusiasts come to visit the Chain of Lakes and Mississippi River, while others prefer to shop for great deals at Mall of America, the nation's largest mall. You can maintain the Twin Cities' great reputation by keeping your parking lot in great condition, using EverLine Coatings' asphalt repair service. For a free estimate, please contact us today.
Before
After
Minneapolis & St. Paul EverLine Office
Serving the Greater Twin Cities area, including:
Minneapolis
Brooklyn Park
Plymouth
Woodbury
Maple Grove
Lakeville
Eagan
Burnsville
Eden Prairie
Coon Rapids
Apple Valley
Minnetonka
Edina
St. Louis Park
Shakopee
Maplewood
Cottage Grove