Improve Traffic Flow and Enhance Parking Lot Safety with EverLine Coatings
In bustling Oakland County, MI, EverLine Coatings is your trusted partner for superior parking lot signs and bollard cover installations. As a property or facility manager, you know the importance of ensuring clear communication through signage and using durable bollard covers to protect your property. Allow EverLine Coatings to simplify this process for you!
Customize Your Traffic Signs and Bollard Covers to Fit Your Needs
As a property manager, we know you're already juggling a lot. Whether you need parking signs, traffic directions, or bollard covers—we'll ensure your project is coordinated with no hassle so you can focus on other important tasks.
Clear parking lot signs are necessary to help people use your parking lot in an efficient and safe manner. EverLine specializes in precise parking lot signage installations that surpass industry standards. From no-parking zones and walkway signage to directional arrows, our signage installations contribute to a safer and more organized parking lot. You can reduce the risk of an accident and therefore lessen your liability by erecting suitable parking lot signs today.
Bollards serve as protective barriers in a parking lot, reducing the risk of collisions between vehicles, people and buildings. Bollards also present an opportunity to add branding or increase the aesthetic appeal of your property. EverLine Coatings provides top-tier bollard cover installations, available in various styles and colors. Our bollard covers can complement your property's overall look while offering the very best protection against impact. Bollard covers also reduce wear and tear on your bollards, which means you do not have to repaint them so often.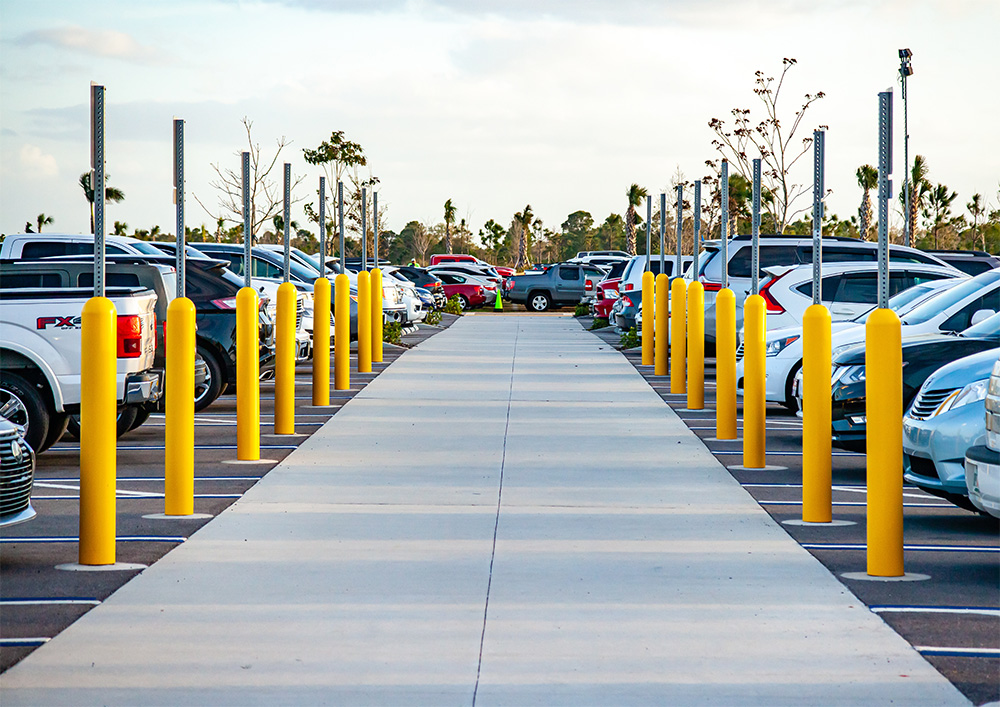 Why Choose EverLine for Parking Lot Signs and Bollard Cover Installation?
At EverLine Coatings, we understand the wide range of challenges that property managers face, and our commitment is to take a job off your plate by streamlining the coordination of your parking lot signage installation project. We handle every aspect of parking lot signs and bollard cover installations, giving you more time back in your schedule. After project completion, we conduct a comprehensive evaluation, providing you with a detailed report that includes before-and-after photos. With this report, you can be sure that you have received the high-quality service that you expected.
Our Pavement Maintenance Work
Before
After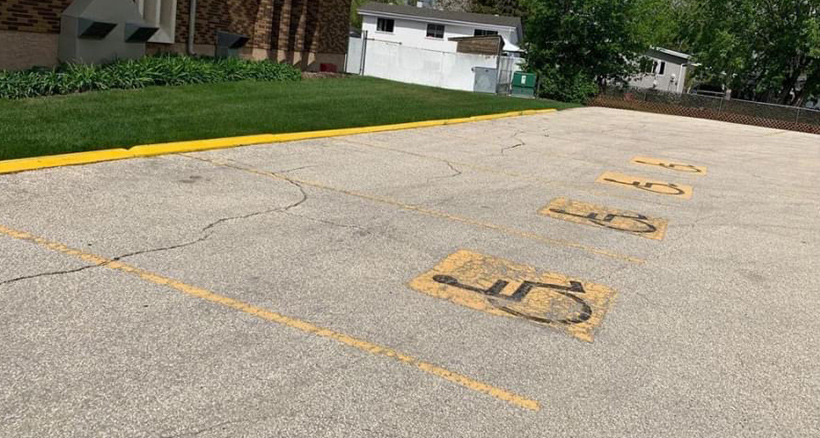 EverLine Coatings' Parking Lot Signs and Bollard Cover Installation Services in Oakland County
Oakland County is a great place for families to visit, with attractions like the Cranbrook House and Gardens showcasing inspiring exhibits. Let EverLine Coatings take care of your property's signage and bollard cover needs. We know your plate is full, which is why our hassle-free project coordination and commitment to always providing full satisfaction make us the best choice for parking lot signs and bollard cover installation in Oakland County. If you're ready to transform your parking lot, call us today to request your free quote!
Oakland County EverLine Office
Serving the Greater Oakland County, MI area, including:
Waterford Township
Auburn Hills
Rochester
Rochester Hills
Troy
Sterling Heights
Royal Oak
Ferndale
Birmingham
West Bloomfield Township
Wixon
Southfield
Farmington Hills
Novi
Northville Township
Plymouth Township
Redford Township
Livonia
Westland
Dearborn Heights