Zionsville Line Striping & Asphalt Repair
As a local property manager, you want your parking lot to leave a positive impression on everyone in Zionsville, IN, whether they're exploring the charming streets of downtown Zionsville or enjoying a peaceful walk in Lions Park. EverLine Coatings is here to meet all your parking lot needs, providing parking lot line striping, reliable asphalt sealcoating, and general parking lot repairs to make your parking lot safe and easy to use.
Parking Lot Line Striping in Zionsville
Parking lot line striping is essential for efficient traffic flow and the safety of drivers and pedestrians. At EverLine Coatings, we go beyond simply painting lines between your parking bays; we can also create custom symbols and even lay out a parking lot from scratch in an empty lot. Our team utilizes industry-leading techniques and high-quality traffic coatings to deliver excellent line striping results. With meticulous attention to detail, we create highly visible line markings that make your parking lot stand out. We are very proud to partner with TBL Durables, a leading brand known for offering extremely durable line striping products. By using TBL Durables coatings to carry out our parking lot line striping jobs, we are able to promise great, long-lasting results.


Zionsville Asphalt Repair
Over time, your Zionsville parking lot may start to break down. The surface may develop cracks, fissures, crumbling sections, or even potholes. EverLine Coatings specializes in asphalt repair to address these issues before they cause damage to a vehicle or injury to a pedestrian. First, our team conducts a thorough assessment of your pavement's condition and creates a plan to restore its structural integrity. We often use a method known as infrared asphalt repair, which involves heating the asphalt to melt it, so that it can be successfully combined with new material. This repair method creates a seamless surface that can withstand everyday wear and tear.
Our Pavement Maintenance Work
Before
After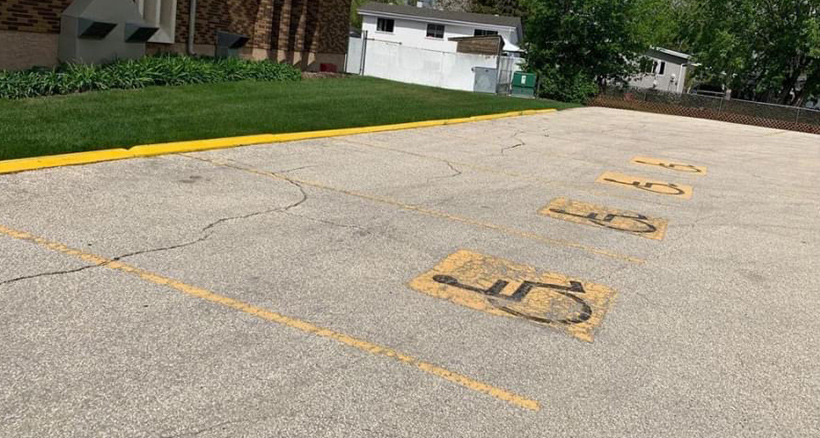 Asphalt Sealcoating in Zionsville
Protecting your parking lot from the damaging effects of rain, standing water, and heavy traffic is crucial for its longevity. EverLine Coatings offers high-quality asphalt sealcoating services to safeguard your pavement. Our sealcoating process involves applying a protective layer that enhances the pavement's durability and appearance. In fact, we apply a double layer to enhance the protection even more. Sealing the surface in this way can help to prevent water penetration and deterioration, reducing the risk of cracks or potholes forming. With our tried-and-tested asphalt sealcoating service, you can lengthen the life of your pavement and avoid the need for costly repairs in the future.
Choose EverLine Coatings for Zionsville Parking Lot Repairs
Zionsville is home to a variety of attractions, such as the picturesque Zionsville Rail Trail, a family-friendly 4-mile walking route, and the iconic SullivanMunce Cultural Center, which offers art classes and more. By choosing EverLine Coatings for your parking lot repairs and maintenance, you can ensure that your parking lot upholds the area's proud reputation. We prioritize attention to detail and customer satisfaction, and we aim to always keep things simple, ensuring a hassle-free experience for you as a property manager. Contact us today for a free parking lot line striping quote!
Serving the Greater Indianapolis Area Including:
Indianapolis
Greenfield
Greenwood
Whiteland
Mooresville
Plainfield
Avon
Brownsburg
Lawrence
McCordsville
Atlanta
Lebanon