Indianapolis is an amazing place to be a business owner, whether you're located in quirky Broad Ripple Village or charming, relaxed Irvington. However, the city's visitors and over 800,000 residents have high standards, so it's important your parking lot makes a good first impression. It's easy for your parking lot to get dirty over time, so we've designed our power washing services to get it sparkling again.
Make A Great First Impression With Power Washing By EverLine
Power washing involves using a high-pressure spray of hot water to remove contaminants from your parking lot. It can remove graffiti, get rid of salt and dirt, remove dust after a hot summer, or even get rid of paint flakes after a renovation. Our power washing services are suitable for a wide range of surfaces including wood, brick, metal, concrete, and asphalt. Power washing is an easy way to improve curb appeal and attract customers.
At EverLine, we know your parking lot is really important to you. That's why we only use state-of-the-art power washing equipment that can cut through dirt and dust without damage to your pavement. Our crew members all go through extensive training to ensure they're ready to tackle your power washing project and to make sure they know the right equipment and techniques to use for your exact surface. We also prioritize great communication, so that you feel free to forget about your parking lot and focus on the aspects of your business that you enjoy most.
Invest In Your Commercial Parking Lot With EverLine
Our power washing services are an essential part of our Preventative Pavement Maintenance Program, which typically doubles the life of a commercial pavement, saving you money over time on maintenance and replacement. This program includes services such as power sweeping, asphalt repair, and line striping, as well as power washing. It's the perfect option for business owners who want to take a proactive approach to protect their assets.
Our Pavement Maintenance Work
Before
After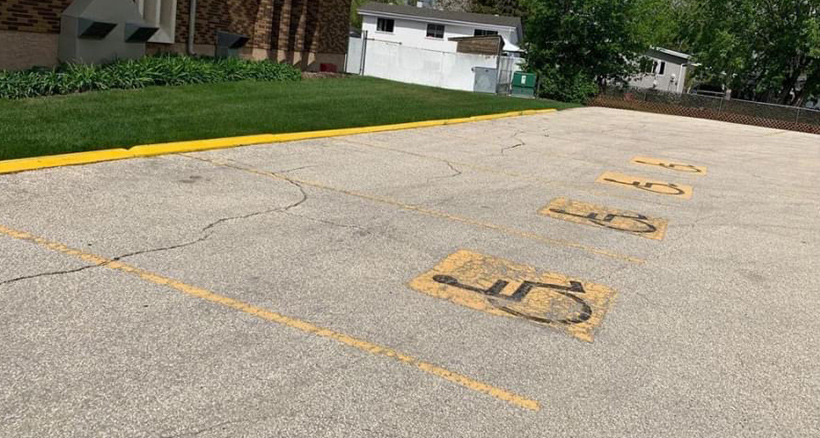 A dirty parking lot can make it look like you don't care about the reputation of Indy, or about your business, so power washing is an essential part of parking lot maintenance. If you want to discuss solutions that suit your business or are looking for a quote, contact EverLine today.
Serving the Greater Indianapolis Area Including:
Indianapolis
Greenfield
Greenwood
Whiteland
Mooresville
Plainfield
Avon
Brownsburg
Lawrence
McCordsville
Atlanta
Lebanon