Safe, Clear, and Easy Navigation for Your Parking Lot
Indianapolis is a thriving, fun city with something to offer everyone, from sport-loving locals to culture-seeking visitors. It's important your parking lot lives up to the standards of this vibrant city. However, a lack of parking signs and bollards can confuse drivers, impede traffic flow, and even cause accidents.
EverLine Coatings provide expertly-designed signs and bollard covers to suit every parking lot.
Traffic Signs and Bollard Covers to Suit Your Indy Business
We can make and install traffic signs and bollard covers that perfectly suit the unique needs of your business, whether you want to create accessible parking spots or simply brighten up your lot.
Here's an overview of what EverLine Coatings offers:
Are you looking for parking lot signage that directs traffic, shows pedestrians where they can safely walk, and lets people know where they can park? We've got the right signage solutions for you. You might also want to create accessible spaces or parent-and-child parking spaces. It could be important to make your lot safer with a crosswalk or speed limit sign.
If you're tired of old, worn-looking bollards that need to be regularly repainted, our bollard covers are the answer. Vibrant bollard covers are easy to see, meaning they help to avoid accidents and direct traffic. Therefore, they help save money on maintenance and repairs. Plus, they can help create a coherent sense of branding for your company, making your parking lot look interesting and inviting.
Your Complete Satisfaction Is Our Highest Priority
The satisfaction of our customers is our top priority at EverLine Coatings. As a busy property owner, you don't have the time to observe every maintenance project from start to finish. That's why we offer a complete evaluation after our projects are complete, including before and after photos so you can see what a difference our installation made.
Our Pavement Maintenance Work
Before
After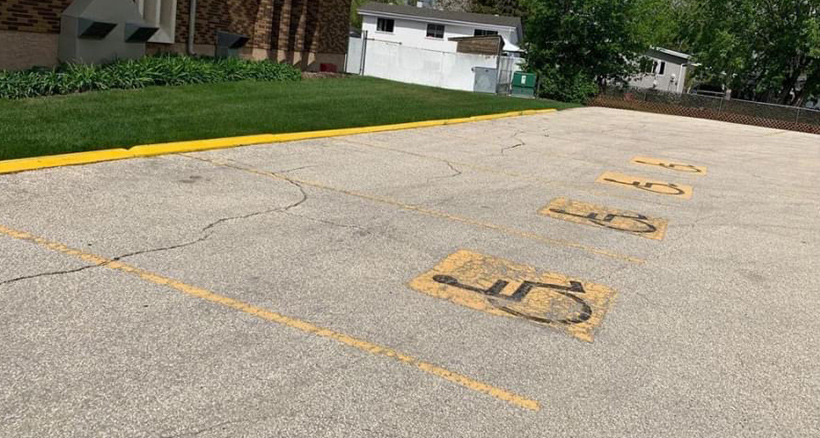 Create a Safe, Easy-to-Use Parking Lot with EverLine Coatings
When you choose EverLine Coatings for your signage and bollard covers, you ensure your project is handled from start to finish by a team of experienced professionals. This frees you up to deal with all the other tasks that come with managing a business, taking a weight off your mind.
Your parking lot creates customers' first impressions of your business. It's important that it's attractive, easy to navigate, and safe. EverLine Indy is an industry leader in signage and bollard covers, so get in touch to discuss your needs and get a quote.
Serving the Greater Indianapolis Area Including:
Indianapolis
Greenfield
Greenwood
Whiteland
Mooresville
Plainfield
Avon
Brownsburg
Lawrence
McCordsville
Atlanta
Lebanon