EverLine's Custom Stenciling Services
Indianapolis is a wonderful place to live, work, own a business, or study, with something to offer for every type of person. Whether you're into fantastic food, independent shopping, or world-class cultural experiences, Indy has something for you. However, it's a competitive environment, and that does mean that your business needs to stand out and make an immediate impression. With EverLine's custom stenciling services, you can make your parking lot unique in a way that perfectly suits your business needs.
Rebrand And Upgrade Your Parking Lot With Custom Stenciling
There are many reasons to choose custom stenciling. You may want to introduce customers to your logo. You might share your company slogan and colors to add a bit of vibrant branding to your pavement. Whatever would benefit your business, we can help you create, and we'll make sure each design is vibrant, long-lasting, and able to withstand heavy traffic.
EverLine can also add regulation signage to your pavement, like symbols that denote accessible parking, cycle lanes, or parent and child parking. We can also add arrows or other designs to keep traffic flowing, reducing bottlenecks and potential accidents. 
Why Choose EverLine For Custom Stenciling
We begin every project by reviewing manufacturer guidelines and data sheets, to make sure we use the right techniques and products for your designs. We'll work efficiently to reduce disruption to your business, and we don't take shortcuts. If we're creating a new design, we'll black out any old ones first, to make sure your new design is vibrant, crisp, and clear. We're versatile in the types of designs we can create, and every member of our crew has taken a study and training course to ensure they're ready for your project.
Additional Line Striping Services
EverLine Indy offers other line striping services to suit every business need, from parking lot line striping to interior line painting for warehouses and other facilities.
Create bright, durable traffic markings to minimize liabilities and improve the flow of vehicles in your property's busy lot with our parking lot striping service.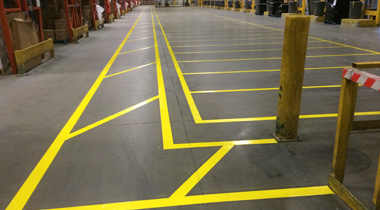 Convey safety messages, enforce boundaries, and communicate the correct way for people and vehicles to move in your bustling building with our interior line painting service.
Our EverLine Paint Products
Our Custom Stenciling Work
Before
After
Indy's Top Custom Stenciling Services
Whether your business is located in eclectic Broad Ripple Village, quirky Fountain Square, or chilled-out Garfield Park, making a great first impression with your parking lot is essential. With our custom stenciling, you can ensure that your parking lot lives up to the standards of our incredible city. If you're interested, get in touch with EverLine Indy for a personalized quote.
Serving the Greater Indianapolis Area Including: