EverLine's Line Striping Services
West and South Atlanta is a great place to own a business. In addition to being a lively, bustling commercial hub, the city of Atlanta has over 400,000 residents and countless visitors to attract to your business. With that in mind, it's important to make an excellent first impression, and your parking lot is a huge part of this, as it's the first thing that potential customers see. With EverLine's parking lot line striping services, you can ensure your lot is attractive and easy to navigate.
EverLine's Full Service Line Striping Services
EverLine offers a full range of parking lot line striping services. Whether you want to create a new parking lot or revitalize an old one, we can help you to make your lot safe and easy to use for drivers and pedestrians alike.
Re-Striping Existing Lots
Does your business parking lot look old and worn? This can not only put potential customers off your business, but can be dangerous if certain parts of your lot are hard to find or navigate. If you want clear markings that are bright and vibrant, our re-striping services are for you.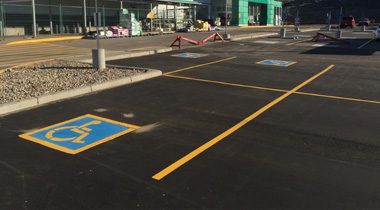 EverLine can help you create a great parking lot from scratch, ensuring that it's easy to navigate and keeps the traffic flowing. We'll help you design parking spaces, curbs, and pedestrian walkways that suit your business needs and keep people safe.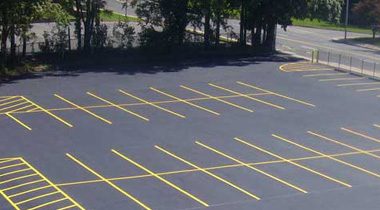 Each business has unique needs, and EverLine can help you create specialty markings that perfectly fit your business. Whether you want to mark out a playground, show people where to cross, keep cyclists safe with a bike lane, or simply add branding, we can help you.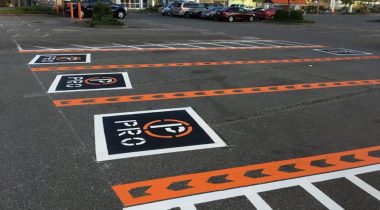 Choose EverLine For Long-Lasting, Durable Line Striping
By working with EverLine for your line striping, you're ensuring that your project is carried out by an industry leader with a deep technical understanding of traffic paints and products. We build out detailed specifications for every project to make sure your new parking lot is exactly what you need. We'll also keep you in the loop throughout the process, and finish with a report with before and after photos to make sure you're happy.
EverLine's Exclusive Product Lines
We know that you want results that will last, even after heavy use. For that reason, we've carefully chosen the best products for your line striping.
TBL Durables
TBL Durables paint is three to four times more durable than comparable paint, as well as being ten times more eco-friendly. You can expect to make 20-30% in savings over three years. EverLine has an exclusive license for private application of this product in North America, so you won't see it anywhere else.
Traffic Paint
We also use municipal-grade traffic paint from Sherwin-Williams to ensure excellent results.


Before
After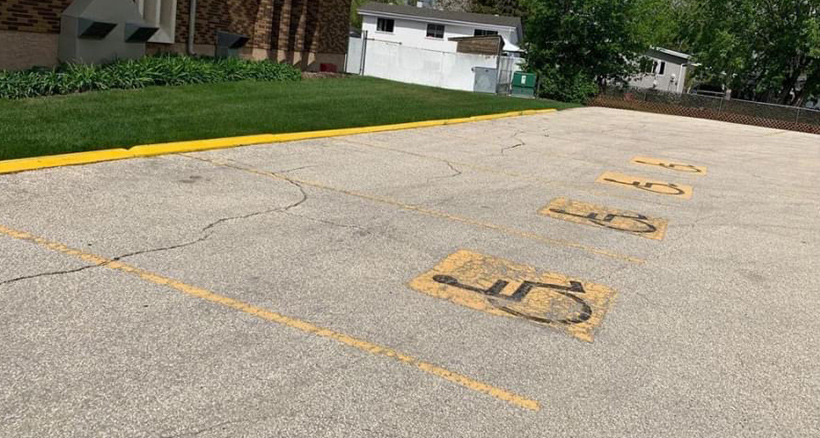 West and South Atlanta is a place that sets high standards, and you need a parking lot that lives up to those standards. EverLine Coatings can help you create a parking lot that not only looks amazing, but is safe and easy to navigate for your customers and employees. If you're interested in our line striping services, get in touch with EverLine for a quote.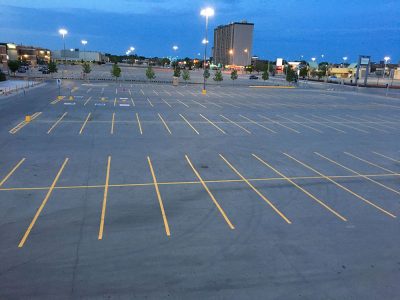 West and South Atlanta EverLine Office
Serving the Greater West and South Atlanta area, including:
Atlanta
Peachtree City
Newnan
South Fulton
Union City
Fairburn
Fayetteville
College Park
East Point
Douglasville
Mableton
Powder Springs
Lithia Springs