EverLine's Line Striping Services
Atlanta, Georgia, is a fantastic place to live and work, whether you want to enjoy a fun drink at a Downtown rooftop bar, stroll through the Atlanta Botanical Garden, or take a run through the BeltLine. Over 400,000 residents make friendly customers and motivated employees, and there's plenty to do on your days off. However, it can also be a competitive place to be a business owner, and it's important that your parking lot makes a great first impression. With EverLine's line striping services, you can make sure your parking lot is attractive and easy to use.
EverLine's Versatile Line Striping Services
A good business parking lot needs lines that are crisp and clear, and that make your lot easy to navigate for drivers and pedestrians alike. EverLine Atlanta offers three different parking lot line striping services:
Re-Striping Existing Lots
Does your parking lot look faded and worn? Faded lines can create confusion, create a bad impression, and even cause accidents. We can re-stripe your lot with bright, clear markings that are sure to last.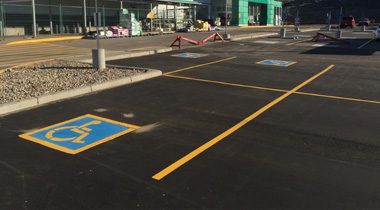 New Parking Lot Line Striping
If you need to create a new parking lot from scratch, EverLine can help you with that. We'll help you design the perfect layout for your unique business needs, including accessible parking spaces, pedestrian walkways, loading zones, and anything else you can think of.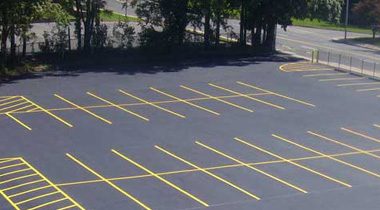 EverLine can create a range of vibrant, long-lasting specialty markings to suit your business. Whether you're looking for bike lanes, safety markings, or something else entirely, our specialty markings elevate any lot.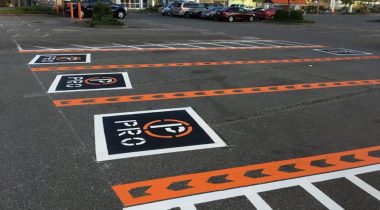 Why Choose EverLine For Parking Lot Line Striping
EverLine is an industry leader in line striping, and every member of our team has a deep understanding of the technicalities of traffic paints, coatings, and techniques. We built out detailed specifications for every project, to make sure you get exactly what you want, and we prioritize communication throughout. After we've finished, we'll provide you with a full report complete with before and after photos, to ensure you're completely happy with your results.
Exclusive Products For Results That Last
EverLine offers two different lines of paint to suit every budget and business type:
TBL Durables
TBL Durables is undoubtedly the leader of the traffic paint industry, and EverLine has an exclusive license for the application of this paint in North America. This paint is three to four times more durable than comparable products, saving you around 20-30% over a three-year period. As well as saving you money, it's also LEED-compliant and 10 times more environmentally friendly than other leading paint types.
Traffic Paint
If you're looking for a more cost-effective option, our traffic paint is for you. We only use paint from reliable companies like Sherwin-Williams for the best results.


Before
After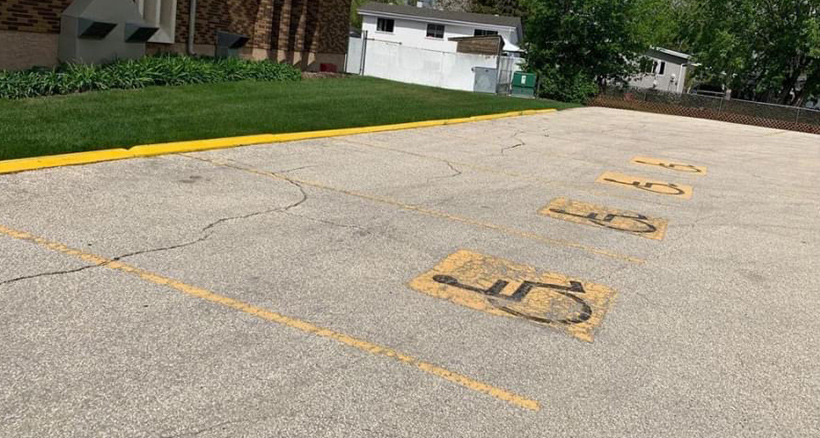 Atlanta's Top Choice for Line Striping
Atlanta is a city that takes itself seriously and sets high standards, and no matter what type of business you run, it's important that your parking lot is up to scratch. By working with EverLine on parking lot line striping, you can ensure that your parking lot is attractive, colorful, and easy to navigate, as well as take a weight off your mind and save yourself some money on long-term maintenance. If you're interested in upgrading an old parking lot or creating a new one, get in touch to discuss your options.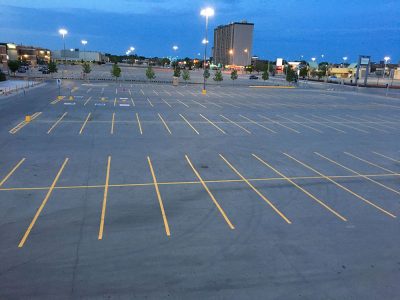 Fill out the form below and one of our Atlanta locations will reach out to you for your free quote.
West and South Atlanta
Phone: (404) 436-1626
Contacts:
Owner – Reggie Harmon
Serving the Greater Atlanta area, including:
Alpharetta
Atlanta
Belvedere Park
Candler-McAfee
College Park
Conyers
Decatur
Douglasville
Dunwoody
Fairburn
Fayetteville
Forest Park
Johns Creek
Lithia Springs
Mableton
Marietta
McDonough
Milton
Newnan
Panthersville
Powder Springs
Riverdale
Roswell
Sandy Springs
Smyrna
South Fulton
Stockbridge
Stonecrest
Union City