Attractive, Eco-Friendly Treatments for Commercial Floors
Interior commercial spaces require slip-resistant surfaces that keep employees and visitors safe. Without the right floor treatments, your facility is at risk of costly liability issues.
With our EverFloor Durable Systems solutions, your commercial interiors will look attractive, lower the likelihood of slips, and offer easy upkeep that saves your business time, money, and hassles.
The Value of EverFloor Durable Systems
Ensure your commercial interior flooring remains in top shape with protective epoxy floor coatings that satisfy industrial standards and regulations.
Our one-stop shop, interior floor services provide options for any type and size of commercial property—including warehouses, food & beverage processing, manufacturing, healthcare/medical facilities, retail, agricultural plants, and more.
Commercial Epoxy
Floor Coating
Low-maintenance flooring that is easy to clean and resistant to chemicals is essential for commercial properties. With our top-performing, long-lasting epoxy coatings, your floors will retain an attractive, shiny appearance even in high-traffic areas.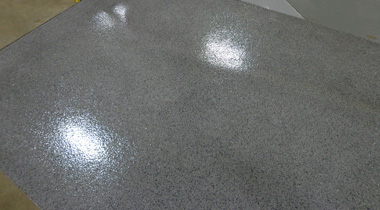 Slip-Resistant
Floor Coatings
Lower the risk of accidents and prevent dangerous slips and falls. Our slip-resistant coating helps protect foot-traffic areas against the effects of snow, ice, rain and other forms of moisture, making your property safer and less susceptible to liability issues.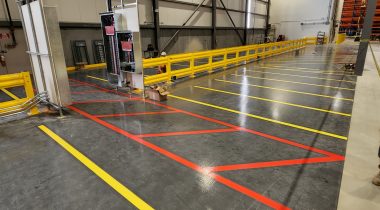 Make it simple for employees and patrons to use your facility safely and efficiently. We can design any embedded line striping and safety markings to suit your needs, including OSHA-compliant line painting, safety lanes, fire exits, and more!
Add a Unique Touch to Your Flooring
Custom Stenciling and Branding
Create an attractive, individualized look for your property with our specialty stenciling. Promote your company culture and encourage team spirit by bringing your brand into every area with stenciled markings on interior floors and surfaces.
Team branding
Company logos
Organizational slogans
Brand colors used in floor markings
Specialized designs
Get a customized look with designer-style colored flakes added to your floor coating. With your choice of colors, you can enjoy a lustrous, branded design that boosts the visual appeal of your property.
Our Floor Coating & Painting Work
Before
After
Get Safe, Low-Maintenance Interior Floors
Ensure your interior commercial floors are clearly marked, durable, and slip-resistant. Get lasting, attractive, high-performing epoxy coatings and interior line markings from EverLine Coatings that make it easy to maintain your property and save you time and money.