EverLine's Parking Lot Sign and Bollard Cover Installation Services
Directing the flow of traffic through your parking lot is essential to keep the space safe for your patrons, staff, and guests. Signs and bollard covers are two important tools that help you make your parking lot safer. They prevent vehicles from going where they shouldn't, and they make sure that safety issues, accessible parking, and the direction of traffic are clear.
EverLine Coatings is the ideal team to help you get signs and bollard covers in your lot. With superior knowledge and dedication to customer service, we will make sure you're entirely satisfied with the signs on your lot.
Certain signs are required in your parking lot, particularly those that indicate accessible parking. Other types of signs aren't required but can still make a huge difference in the function and safety of your lot. You're used to driving in it, but your guests are not, and if they misunderstand the flow of traffic in your lot because you're missing a sign, you create a hassle and safety concern for everyone.
Some of the signs that you may want to invest in for your lot include:
Directional signs: These signs control the flow of traffic directly. You might need "stop," "do not enter" or "one-way" signs in order to make your property safe.
Parking signs: Who can park and where? These signs can indicate parking for expectant mothers, parking for a specific business only, or detail other parking rules.
ADA-compliant signs: The ADA requires that you label accessible parking and may also require you to have other signs. We can help you determine what those signs are and install them.
We offer well-made signs that will resist the elements and communicate clearly to all of the drivers and pedestrians in your parking lot.
Bollards are posts that you install in your parking lot. They prevent vehicles from driving into certain spaces and can protect your building or pedestrians on your property. We add covers over bollards which makes them easier to spot and helps drivers avoid them.
Why Choose EverLine Coatings?
EverLine Coatings understands that as a property manager, you always have more on your plate than you can really handle. We seek to make it easy for you by coordinating your project with as little input from you as possible. You can trust that, with our superior knowledge and focus on your needs, we will ensure that your signage installation or bollard cover installation is done right.
Our Pavement Maintenance Work
Before
After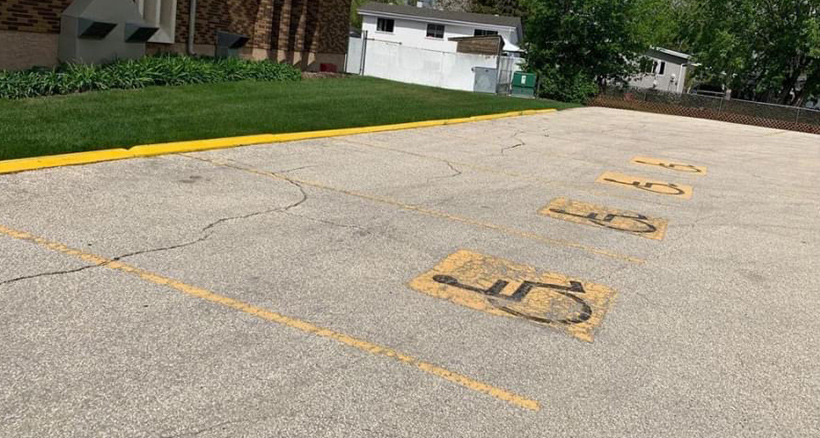 Sign and Bollard Cover Installation in Tampa, FL
Whether tourists are walking through your property or your own clients are parking in your lot, your property sees a lot of traffic. We can help make it safe with sign and bollard cover installation in Tampa, FL. 
Contact us when you're ready to upgrade your parking lot with sign and bollard cover installation.
Tampa Bay EverLine Office
Serving the Greater Tampa Bay area, including: