EverLine's Line Striping Services
Is the parking lot of your St. Petersburg, FL property starting to look run down? Over time, wear and tear can cause the asphalt to crumble and potholes to develop. The line markings are also likely to fade, making your parking lot more difficult to use.
EverLine Coatings offers superior parking lot line striping and asphalt repair services in St. Petersburg. We take on the organization of every project, allowing you to focus on your day-to-day tasks as a property manager. You can be sure we'll deliver a great result.
Parking Lot Line Striping in St. Petersburg

Time fades all things, including parking lot lines. The good news is that EverLine Coatings can repaint your parking lot line markings to make the bays easier to see and use. Need us to create a parking lot from scratch? No problem! We can design the lot to include clearly marked bays, walkways, crosswalks, and more.
We use TBL Durables traffic paint to give great results on our line striping jobs. This paint lasts longer than other brands and produces very clear line markings. We further enhance the clarity of the lines by removing old paint before we apply new lines to your parking lot.
St. Petersburg Asphalt Repair
If the pavement in your St. Petersburg parking lot is beginning to break down, it is best to get it repaired as soon as possible. Cracks that are ignored can develop into potholes, which can be more costly to fix. To repair fissures in asphalt, EverLine Coatings uses an infrared asphalt repair technique. This involves heating the damaged asphalt to a temperature of more than 300 degrees to soften it, so it can be reshaped. Infrared asphalt repair is fast, eco-friendly as it reduces the amount of new material needed, and effective.
Our Pavement Maintenance Work
Before
After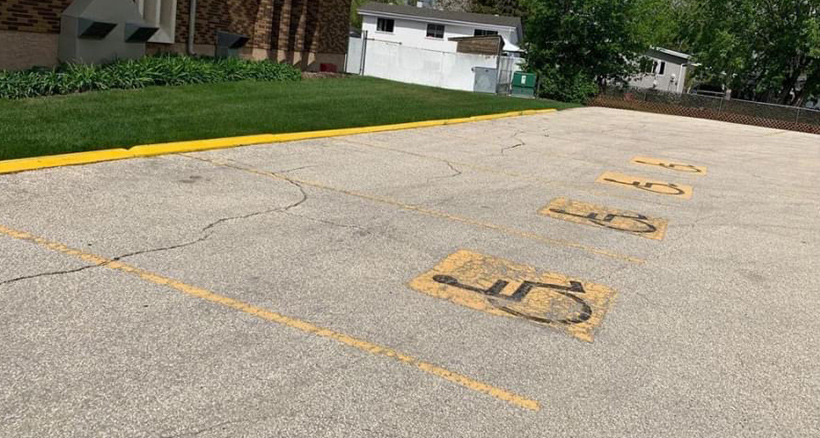 Asphalt Sealcoating in St. Petersburg
Take action now to prevent damage to your pavement. EverLine Coatings provides an asphalt sealcoating service that decreases pavement deterioration over time. By using this service, you could save money on parking lot repairs over the years.
Our sealants protect year-round against extreme heat and cold, so they're ideal for use in St. Petersburg. Before we begin the sealcoating process, we thoroughly clean the pavement to ensure a good seal. We always use undiluted sealing products to produce the best possible result, and apply a double layer for extra protection.
Parking Lot Repairs by EverLine Coatings in St. Petersburg
In St. Petersburg, FL, visitors can enjoy a day at the beach, explore museums, and take in a show at one of the many theaters in the area. One of the biggest attractions in St. Petersburg is the Salvador Dali Museum, which houses a large collection of Dali's weird and wonderful work. Another popular spot is the St. Petersburg Pier. 
As a property manager in St. Petersburg, you can ensure that your parking lot lives up to the city's great reputation by maintaining the asphalt and line markings. EverLine Coatings offers a range of services, including asphalt repair, sealcoating, and parking lot line striping to help you with this. Contact us today for a free quote!
Tampa Bay EverLine Office
Serving the Greater Tampa Bay area, including:
Lutz
Tampa
Palm Harbor
Clearwater
Oldsmar