Enhance Your Pavement with EverLine's Custom Stenciling Services
Tampa Bay, FL is a busy place. With a population of almost 3 million and an influx of tourists coming in all year long to enjoy the warm beaches, it's no wonder the custom stenciling on parking lots wears down so quickly.
At EverLine Coatings, we're dedicated to making it easy for businesses to keep their parking lot custom stenciling bright, with eye-catching colors and details year after year!
What Custom Stenciling Can Do for Your Tampa Bay Parking Lot
Custom stenciling for parking lots tells people where to park, directs traffic, and is needed for liability purposes. Busy parking lots see a lot of traffic that fades and wears the paint down.
Routinely updating custom stenciling on a parking lot improves its appearance, and keeps your lot organized. It also helps you to provide better customer service by making it easy to read regulation signage. In addition to all of the above, there are compliance issues to think about. The ADA requires that every parking lot have a certain number of spaces for accessible parking, and fire codes require other specifics such as a fire lane for emergencies.
Custom stenciled logos, lettering, and any design you can think of are also a great way to add branding to your parking lot! We believe that if more people had custom stenciled art and designs on their properties, it would make our Tampa Bay community much more vibrant.
Professional Custom Stenciling for Your Tampa Bay Property
Custom stenciling for parking lots requires a high level of precision that depends on high-end equipment to produce a detailed job. At EverLine Coatings, we make sure that every job gets done right. That means, if we are repainting or adding a new stencil that doesn't quite match the old, we won't just paint over the old line markings. We'll blackout the old marks first so the new lines are clean and really stand out.
In addition to custom stenciling, we also do parking lot line striping and interior line painting. We have developed a proprietary study and training course that ensures all team members are certified for each type of service we provide you.
Additional Line Striping Services
Create bright, durable traffic markings to minimize liabilities and improve the flow of vehicles in your property's busy lot with our parking lot striping service.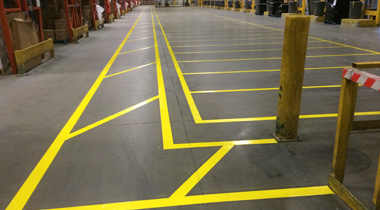 Convey safety messages, enforce boundaries, and communicate the correct way for people and vehicles to move in your bustling building with our interior line painting service.
Our Custom Stenciling Work
Before
After
Why Choose EverLine Coatings?
Doing business in the bustling city of Tampa Bay can make standing out a challenge. That's where our team at EverLine Coatings comes in. We build out specifications for projects ahead of time. We review data sheets and follow manufacturer guidelines to the letter. This ensures your investment lasts.
If you need parking lot custom stenciling in the Tampa Bay area, give EverLine Coatings a call and contact us today!
Tampa Bay EverLine Office
Serving the Greater Tampa Bay area, including: