EverLine's Parking Lot Signs Installation
Being a business owner in Southeast Florida is great, with tourists flocking to the region for great beaches, lively culture, and amazing weather, but it can also come with challenges. This fun, vibrant region sets some high standards, and a boring, confusing, or unappealing parking lot can really be off-putting to potential customers. By adding signs and bollard covers to your parking lot, you not only make it look more visually appealing but you can easily convey information and reduce the risk of accidents and injuries.
Make Your Parking Lot Safer With Signs And Bollard Covers
If you want your parking lot to be safer and easier to navigate, signs and bollard covers are essential. At EverLine, we'll work with you to create something that works for your unique business needs.
Helpful Signage Installation
You might want signs on your property that show people where they can walk, park, and drive, or that clearly lay out the rules of your parking lot. You may also choose signs that designate special parking spaces, or show visitors where the crosswalk is. Whatever the case, your signs should be easy to read, help with traffic flow and bottlenecks, and be visually appealing.
If you want to add some vibrant, fun branding to your parking lot, bollard covers in your company colors are a great option. They protect posts and car doors, while also giving the property a uniform look. Plus, you won't have to spend time scraping and repainting bollards, saving you money in maintenance costs over time.
Choose EverLine For Premium Sign And Bollard Cover Installation
By choosing EverLine, you are ensuring that your project is carried out by an experienced team who cares about your business. We'll help you decide exactly what you want and what would work, and keep you informed throughout. This is sure to help take a weight off your mind, and let you focus on your business. We'll end the project by preparing you with a full report, complete with photos, to make sure the results are exactly what you hoped for.
Our Pavement Maintenance Work
Before
After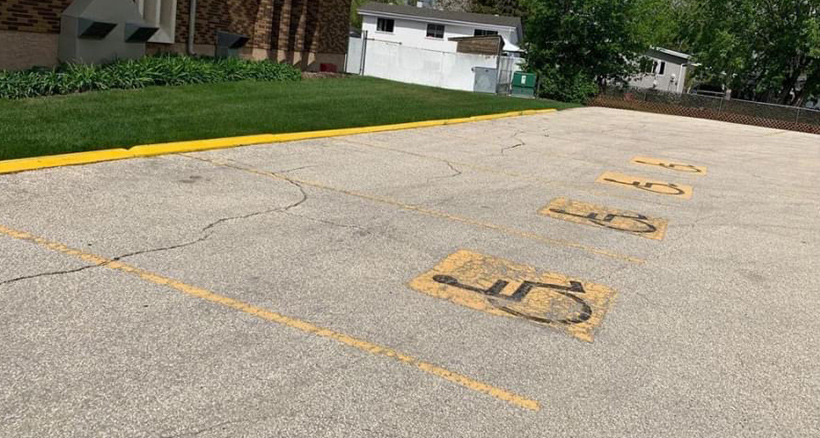 Southeast Florida is an incredible place to live and work, whether you enjoy exploring national parks, relaxing on the beach, or eating at amazing local restaurants. However, visitors and residents expect a lot in this area, and your parking lot should live up to expectations. Whether you want to improve the flow of traffic, keep pedestrians safe, or simply add a pop of color to a gray parking lot, signs and bollard covers are an essential part of your Southeast Florida parking lot. Get in touch with EverLine today to discuss unique solutions for your business.
Southeast Florida EverLine Office
Serving the Greater Miami, Fort Lauderdale, and Boynton Beach areas, including:
Sunrise
Weston
Pembroke Pines
Surfside
Delray Beach
Boca Raton