Southeast Florida Pavement Maintenance Services
Southeast Florida is a special place for residents and visitors alike, with so much to do for every type of person. Whether your idea of a good time is relaxing on the golden sands of Pompano Beach, playing golf in Boca Raton, or diving in Fort Lauderdale, the region offers fantastic weather and the perfect blend of relaxation and weather. However, when it comes to running a business, it's a place where you need to make an immediate impression to stand out from the crowd. By letting EverLine take care of your pavement maintenance, you can ensure your parking lot is attractive, safe, and easy to navigate.
Pavement Maintenance Options to Keep Your Lot Looking Great
Good parking lot line striping can make your parking lot look fresh and clean, while also making it easy to navigate. Whether you want to create a new parking lot that perfectly suits your unique requirements or simply refresh an old one, we can help. We'll ensure every line is crisp and clear, and our exclusive TBL Durables coating is designed to last 2-4 times as long as comparable paints. 
If you want to stand out with your brand logo or fun colors, EverLine Coatings can create custom stencils as well!
Does your asphalt look worn and bumpy? Is it full of potholes? Damaged asphalt can create a bad impression, and make it look like you don't care about your business. Luckily, our asphalt repair services can help.
We use an innovative infrared asphalt repair process, where we heat up your asphalt, penetrating the surface layer and allowing us to use old asphalt as if it was brand new.
Asphalt sealcoating involves the application of a waterproof, asphalt-based spray to your lot, protecting it from moisture and chemicals and creating a smooth, uniform surface.
In an area with standards as high as Southeast Florida's, the little details matter. EverLine can supply and install essential parking lot accessories to help finish off your business lot.
Parking signs and bollard covers help prevent accidents and reinforce the rules of your lot.
Parking blocks and speed bumps prevent damage to vehicles and keep traffic flowing safely.
Our Pavement Maintenance Work
Before
After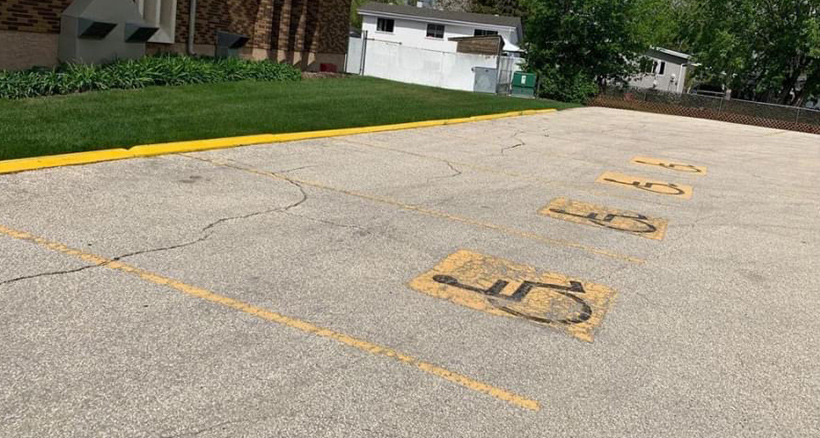 Our Preventative Pavement Maintenance Program
When you're looking for a long-term pavement maintenance solution, our Preventative Pavement Maintenance Program is for you. Designed to double the life of your pavement, this proactive program includes services like line striping, asphalt repair, power washing, sweeping, and more!
Invest In Your Parking Lot With Our Pavement Maintenance Services
It's natural for Southeast Florida parking lots to become worn and faded over time, whether it's due to heavy traffic, moisture from rain, or the hot Florida sun. EverLine can help restore your lot, ensuring it looks great all year round. Whether your lot needs line striping, asphalt repair, or extra accessories, get in touch today to keep your parking lot looking its best with our pavement maintenance services!
Southeast Florida EverLine Office
Serving the Greater Miami, Fort Lauderdale, and Boynton Beach areas, including:
Sunrise
Weston
Pembroke Pines
Surfside
Delray Beach
Boca Raton