EverLine's Custom Stenciling Services
Southeast Florida is a place that sets high standards, whether you're looking for quirky independent shopping, fantastic food, stunning beaches, or unrivaled outdoor activities. Residents of this beautiful region work hard and play hard, and are always looking for new things to do, while tourists are attracted to the area by the sunny weather and chilled-out vibes. It's natural that you want your parking lot to stand out from the crowd and make a great first impression, and there's no better way to do that than with custom stenciling by EverLine Coatings.
Make Your Parking Lot Unique With Custom Stenciling
Each business has unique needs, which is why we offer so many different types of custom stencils. We can add to your business branding with your logo, company slogan, or anything else you can think of, all designed in your vibrant color scheme. If there's a type of lettering or graphic you can think of, we'll work with you to bring it to life.
Choosing a unique and quirky design can really add a sense of fun and playfulness to your lot, fitting perfectly with the spirit of South Florida. However, we can also help you add regulation symbols that are required by the law, such as those that show accessible parking.
Why Choose EverLine For Custom Stenciling
At EverLine Coatings, we ensure that each member of our team has taken a study and training course so they're ready to work on your project. We'll also spend time before the project reviewing data sheets and guidelines, so we can figure out how best to create your designs, and we'll use only the best paint products so that your parking lot looks incredible for a long time.
We're determined to create clear designs, so if we're painting over an old design or adding new elements, we'll black out the old design first. This means that your design will look as crisp and attractive as possible. Our work is speedy and efficient while also utilizing techniques that guarantee great results. In addition to keeping you in the loop throughout the process, we'll aim to minimize any disruption to your business.
Additional Line Painting Services
If you're looking for other line painting services, such as interior line painting for a warehouse or parking lot line striping, EverLine offers a range of additional services that may interest you.
Create bright, durable traffic markings to minimize liabilities and improve the flow of vehicles in your property's busy lot with our parking lot striping service.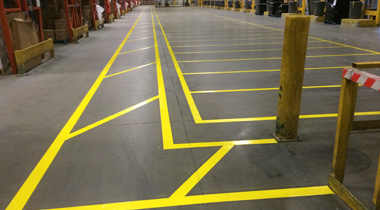 Convey safety messages, enforce boundaries, and communicate the correct way for people and vehicles to move in your bustling building with our interior line painting service.
Our Custom Stenciling Work
Before
After
We know that there's a lot to consider when you're a South Florida business owner and that thinking about custom stenciling for your parking lot might not be at the top of your priority list. By working with EverLine, you can take the stress out of parking lot maintenance and focus on the aspects of your work you really care about. If you're interested in long-lasting, custom-made designs that perfectly suit the vibe and goals of your business, get in touch with us today to discuss options and get a quote.
Southeast Florida EverLine Office
Serving the Greater Miami, Fort Lauderdale, and Boynton Beach areas, including:
Sunrise
Weston
Pembroke Pines
Surfside
Delray Beach