EverLine's Asphalt Pothole Repair Services
The state of your parking lot can have a significant impact on the initial impression clients get from your Miami or Fort Lauderdale area business. Potholes and cracks detract from the appearance of your property and compromise its ability to give a professional first impression.
Asphalt pothole repair services from EverLine Coatings can help bring your parking lot back to its original state. As our products are built to last, you will see a significant return on your investment. We keep asphalt repair simple!
Advanced Infrared Asphalt Pothole Repair Services From EverLine Coatings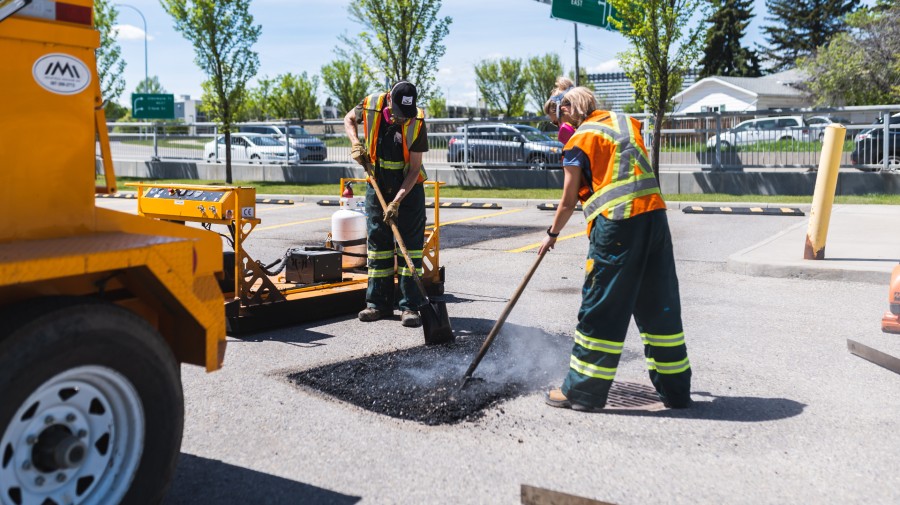 It's crucial to fix potholes in your Miami parking lot as soon as they appear. If the damage is not repaired, water could seep into the asphalt's holes and fractures, leading to deeper fissures. This process can be stopped by timely pothole repair, keeping your asphalt in the best condition possible.
When arranging asphalt repair, it's crucial to pick a business with a solid reputation for producing high-quality work. Asphalt damage can be swiftly and efficiently repaired using a patented infrared asphalt repair technique by EverLine Coatings.
Our skilled teams use hot-mix asphalt to fill in holes and cracks before compacting the surface. This results in a seamless repair that is neat, skilled, and high-quality. We remove any loose aggregate during the repair process and add a rejuvenator to replenish lost oils. The end result is a finish that is flawless, level, and smooth.
For the repair of potholes, heaving pavement, rough surfaces, and catch basins, we employ our unique infrared asphalt repair technique. It's quick, affordable, environmentally friendly, and yields long-lasting results.
We are aware of your busy schedule as a property manager. EverLine offers a straightforward and simple repair process. Knowing the repair will proceed smoothly allows you to concentrate on other responsibilities.


Protect Your Recently Repaired Asphalt with Sealcoating
Keep your newly repaired asphalt in top shape while giving your entire parking lot a fresh, renewed look with EverLine's asphalt sealcoating services.
Increase the Longevity of Your Pavement With EverLine's Asphalt Pothole Repair Services
Southeast Florida has a hot and sometimes stormy climate, which can be hard on asphalt. Fluctuating temperatures erode asphalt, causing potholes and fractures. In the luxury areas of Fort Lauderdale and Miami, customers expect better!
Our team at EverLine Coatings is aware of the difficulties that Miami's weather provides for pavement and parking lots. We carry out long-lasting asphalt pothole repairs using our expertise. Even better, we provide a Proactive Pavement Maintenance Program to proactively fix minor flaws and cracks before they worsen. Using this procedure, your pavement's lifespan is doubled — saving you money over time. Contact us right away to get a free quote!
Our Asphalt Pothole Repair Work
Before
After
Southeast Florida EverLine Office
Serving the Greater Miami, Fort Lauderdale, and Boynton Beach areas, including:
Sunrise
Weston
Pembroke Pines
Surfside
Delray Beach