As a property or facility manager in vibrant Orlando, FL, you understand the ability of a well-maintained parking lot to create a positive first impression for visitors. Whether your visitors are local residents, or tourists in town to visit attractions like Walt Disney World, EverLine Coatings is your trusted partner in achieving an exceptional parking experience. We offer comprehensive line striping services that cater to your specific needs, ensuring clear, organized, and visually appealing markings that enhance traffic flow and improve safety.
Parking Lot Line Striping in Orlando
At EverLine Coatings, we provide a range of parking lot line striping services tailored to your requirements.
Restriping Old Parking Lots
Over time, line markings in well-used parking lots may fade or become worn. We specialize in re-striping existing lots to restore their appearance, functionality, and safety.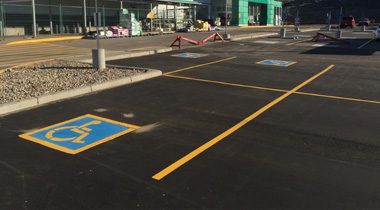 If you are constructing a new parking lot, our skilled team can provide precise and professional line striping that maximizes parking capacity and optimizes traffic flow. We can quickly transform an empty lot into a fully functional parking area for your business.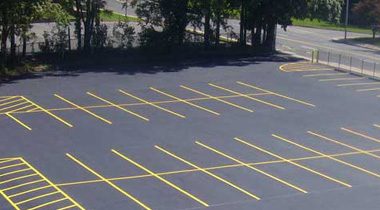 We offer specialty markings for specific needs such as ADA accessible parking spaces, loading zones, walkways, crossing places, and other custom requirements. Want to use line markings to brand your parking lot? No problem! Simply get in touch and let us know what you need.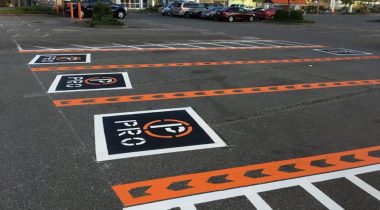 Drawing the Difference: Why EverLine is the Ultimate Choice for Line Striping
At EverLine Coatings, we stand out from the competition for several reasons. First, our team has a deep understanding of the technical specifications of traffic paints and coatings. We have developed project-specific specifications, giving our clients confidence in our expertise.
As an exclusive licensee of TBL Durables in North America, we offer a superior line striping product that is 3-4 times more durable than regular traffic coatings. This means you can achieve a better return on investment and experience long-lasting results; our clients report savings of as much as 20-30% over three years. TBL Durables is also 10 times more environmentally friendly than other leading products, making it a sustainable choice for your parking lot line striping project.
After your project is complete, we carry out a full evaluation, as we want you to be sure that you have received the service you paid for. We prepare a report with before and after photos, so you can see the results for yourself!


Before
After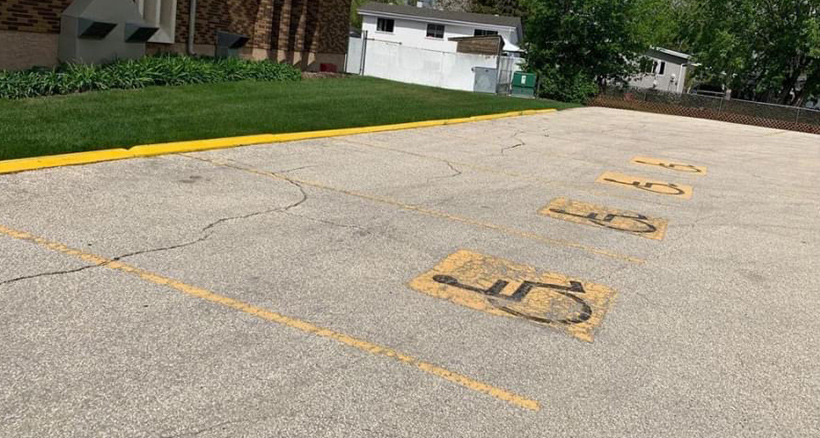 Navigating Excellence: Orlando's Premier Parking Lot Line Striping by EverLine Coatings
At EverLine Coatings, we are committed to the success of your property in Orlando. From the iconic Magic Kingdom to the lively International Drive, Orlando offers a multitude of attractions. Some visitors might prefer learning about spaceflight at the Kennedy Space Center Visitor Complex over meeting Mickey Mouse, but everyone who comes here is sure to have a great time. As contractors in Orlando, we understand the needs of this unique community in sunny Florida and strive to exceed your expectations. Experience the difference with EverLine Coatings and transform your parking lot into a functional, safe, and visually appealing space with our parking lot line striping services. Contact us today for a free quote!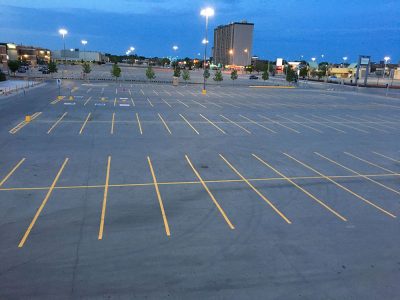 Fill out the form below and one of our Orlando locations will reach out to you for your free quote.
Serving the Greater Orlando area, including:
Clermont
Daytona Beach
Deland
Deltona
Four Corners
Haines City
Kissimmee
New Smyrna Beach
Oak Ridge
Oviedo
Orlando
Palm Coast
Poinciana
Saint Cloud
Sanford
The Villages
Winter Garden