Jupiter / Port St. Lucie Line Striping Services
Here in sunny Jupiter and Port St. Lucie, FL, EverLine Coatings is ready to provide you with exceptional parking lot line striping services! Whatever kind of property or facility you manage, our professional line marking services will leave a lasting impression. Entrust us with your parking lot line striping needs while you focus on the success of your establishment. While we manage your parking lot line striping project, don't miss the iconic Jupiter Inlet Lighthouse and Museum, a historical landmark offering breathtaking views and insights into Florida's maritime history.
Our Quality Line Striping Services
EverLine Coatings offers a comprehensive range of parking lot line striping services in Jupiter and Port St. Lucie.
Restriping Old Parking Lots
Over time, parking lot lines can fade, leading to inconsiderate parking and raising the risk of a collision. Our re-striping services are designed to revitalize your existing parking lot lines, restoring their visibility and improving the overall appearance of your lot. After we're done, you'll receive a report with before and after pictures so you can see the effects of our work.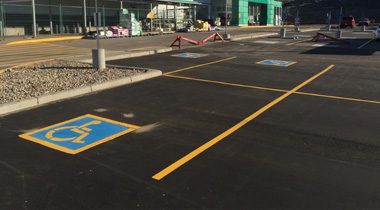 If you require new parking lot line striping, our skilled team is equipped to deliver exceptional results. Using premium-grade traffic coatings, we will create clear and well-defined parking spaces, directional arrows, pedestrian areas, crossings, and other line markings that ensure efficient traffic flow and orderly parking.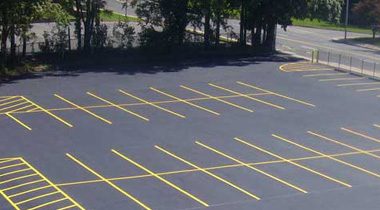 Need special markings, such as company logos or branding? Our team is proficient in providing specialty markings tailored to your specific needs. No matter what kinds of custom symbols and signs you need, we have the expertise to handle it all.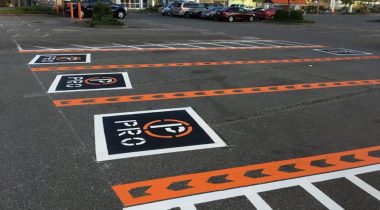 Why Choose EverLine for Line Striping?
When it comes to parking lot line striping in Jupiter and Port St. Lucie, EverLine Coatings is the trusted choice. Our knowledge of top-quality line striping brands, including TBL Durables, ensures that our work is of the highest standard. EverLine Coatings proudly partners with TBL Durables. Known for their superior quality, TBL Durables line striping products offer unmatched durability and longevity, lasting 3-4 times longer than most other paints. By utilizing TBL Durables, we deliver long-lasting, highly visible, and professional-looking line markings and savings of up to 20-30% over three years. This coating is also environmentally friendly and LEED-compliant.
EverLine's Quality Paint Brands
Before
After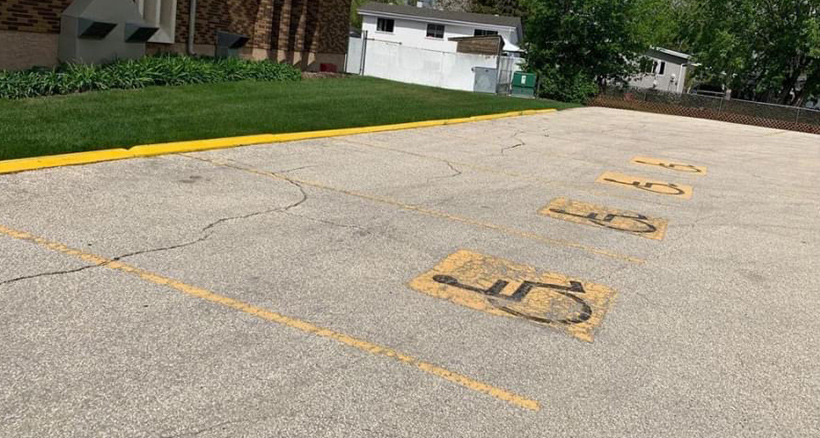 EverLine Coatings' Parking Lot Line Striping Services in Jupiter and Port St. Lucie
In Jupiter and Port St. Lucie, take a moment to appreciate the cultural significance of the Hibel Museum of Art, where masterpieces of renowned artist Edna Hibel are showcased. For a serene outdoor experience, make sure to visit the Port St. Lucie Botanical Gardens, an oasis of flora and fauna. These attractions bring visitors to the area and joy to locals. 
Want to ensure your property in Jupiter or Port St. Lucie matches the beautiful surroundings? Contact EverLine Coatings today for more information about our professional line striping services. With our impeccable attention to detail, we will transform your parking lot into a well-structured and visually appealing space. Request your free quote now!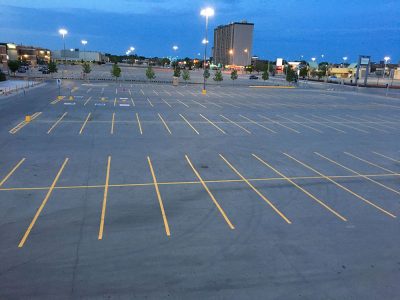 Jupiter/Port Saint Lucie EverLine Office
Serving the Greater Jupiter/Port Saint Lucie area, including:
Port Saint Lucie
Lakewood Park
Fort Pierce
Jensen Beach
Stuart
Riviera Beach
Loxahatchee Groves
Belle Glade