Jacksonville Parking Lot Signs & Bollard Cover Installation
Jacksonville is a truly special city to over 950,000 residents, as well as countless tourists drawn to the area by delicious seafood, fantastic beaches, and a chilled-out vibe. Whether you're a foodie, a surfer, or a history lover, it's a wonderful place to live and run a business. However, your parking lot does need to live up to some high standards in order to attract customers. EverLine's parking lot signs and bollard covers are sure to make your lot feel safe and appealing, with options for every type of business.
Upgrade Your Parking Lot With EverLine
As an industry leader in parking lot maintenance, we understand that you want a parking lot that's safe, easy to navigate, and visually appealing. Our comprehensive signage and bollard cover services are sure to help you reach your goals.
Clear signage can help to lay out the rules of your lot and keep everyone safe. Whether you want to show people where to park, highlight accessible spaces, show a speed limit, enforce rules, or simply keep traffic flowing, we can create attractive, easy-to-read signs.
Bollard Cover Installation
Do you want to enhance your business branding and bring a vibrant pop of color to your lot? Our bright bollard covers are for you. Available in a range of colors, they instantly enhance the appearance of your bollards and reduce accidents and damage to cars. They also mean you don't need to scrape and repaint bollards, saving you money on maintenance.
Why Choose EverLine For Signage And Bollard Covers
EverLine can create a wide range of signs customized to every business need, whether you want bright yellow bollards or a simple stop sign. We'll work closely with you to figure out what you need, and our small, experienced crews will install your new signs or covers with minimal disruption to your business. We'll keep you in the loop throughout, and we'll finish by creating a report, complete with before and after photos, to ensure you're happy with your results.
Our Pavement Maintenance Work
Before
After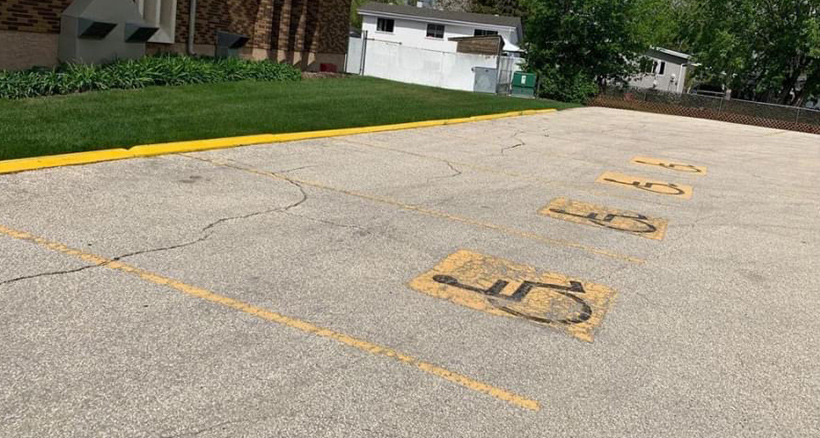 Contact Everline Coatings Today
Being a business owner in friendly, vibrant Jacksonville is really rewarding, but we also know that it can be a challenge, and that parking lot design and maintenance isn't always at the top of your priority list. If you need help with signage and bollard covers and want to take a weight off your mind, get in touch today to discuss your options.
Jacksonville EverLine Office
Serving the Greater Jacksonville area, including:
Jacksonville
Jacksonville Beach
St. Augustine and Beaches
Arlington
Green Cove Springs
Lawtey
Macclenny
Ponte Vedra Beach