Line Striping in Lakewood
It's time to take action to improve your Lakewood, CO parking lot! Faded parking lines can lead to confusion and jeopardize the safety of drivers and pedestrians. EverLine Coatings is here to help, with a fast and effective solution to revitalize your parking area. Our professional line striping and asphalt repair services will breathe new life into your lot, improving both its functionality and its appearance. We know you're very busy as a property manager in Lakewood, home of the quirky Rodz and Bodz Movie Car Museum, but you can't afford to put off essential parking lot repairs. Let our team handle everything for you, ensuring your parking lot is safe without disrupting your everyday business operations. We are the experts when it comes to seamless project coordination and promise you a stress-free experience.
Parking Lot Line Striping in Lakewood
Act now to restore clarity to your Lakewood parking lot.

Our skilled team specializes in top-quality line striping services that will make a dramatic difference to the lot's appearance and safety. Using durable and high-visibility traffic markings from TBL Durables, we'll create crisp, vibrant, and easily identifiable parking lines. Compared to other traffic paints on the market, this brand offers far superior longevity. There's no need to let your parking lot fade into a confusing mess of worn-out lines. Take action today and enjoy a fresh, well-organized, and safe parking area.
Asphalt Repair in Lakewood
Don't let potholes and cracks take a toll on your Lakewood parking lot any longer. If someone is injured in a pothole in your parking lot, you could be held responsible. Our expert team will assess your lot and quickly address these common pavement issues, using advanced asphalt repair techniques to deliver rapid and reliable results. We melt the asphalt to a very high temperature so that it can blend with new material to create a seamless repair. By acting now, you can prevent the present damage from spreading and getting worse.
Our Pavement Maintenance Work
Before
After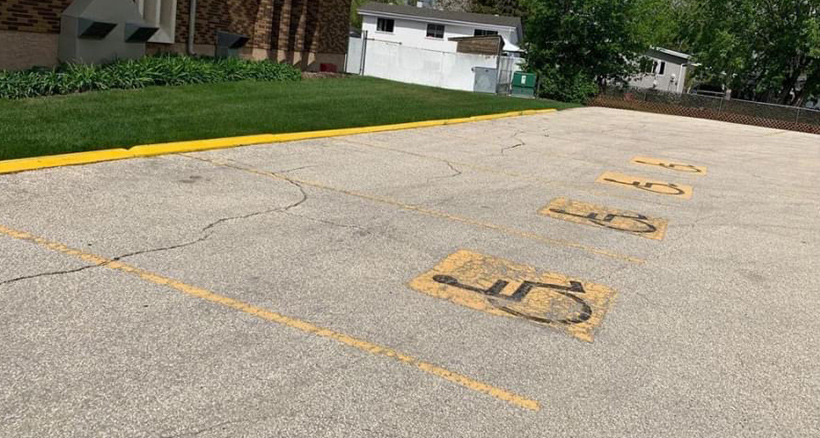 Asphalt Sealcoating in Lakewood
You want to protect and preserve your Lakewood parking lot. The harsh elements are relentless, causing gradual deterioration and costly repairs. Our asphalt sealcoating service is the timely solution you need to safeguard your investment. Our high-quality sealant forms a powerful barrier against UV rays, water, oil and extreme weather conditions, preventing further damage and extending the life of your pavement. We apply two coats to ensure full protection. Don't delay—seal the deal today and enjoy long-term savings on parking lot repairs!
EverLine Coatings: Your Partner for Parking Lot Repairs in Lakewood
People come to Lakewood to explore the charming Belmar Shopping District or enjoy the serenity of Bear Creek Lake Park. As a local property manager, you can guide visitors to experience the captivating Lakewood Cultural Center and immerse themselves in its vibrant arts scene, while we transform your parking lot into a safe and visually appealing space. To keep everyone who visits or lives in the town safe, it's important to take action now to transform your parking lot with EverLine Coatings. Our professional line striping and asphalt repair services are ready to make a difference to your Lakewood parking area. Contact us today for a free quote!
Fill out the form below and one of our Denver locations will reach out to you for your free quote.
Boulder / North Denver
Phone: (303) 351-2135
Contacts:
Owner – Stephen Collins
General Manager – Jacob Naylor
Serving the Greater Denver area, including: