Boulder Parking Lot Line Striping & Repair
Against the stunning backdrop of the iconic Flatirons, your parking lot can receive top-notch care in the vibrant city of Boulder, Colorado. EverLine Coatings specializes in delivering high-quality parking lot line striping and asphalt repair services in this area. We aim to not only enhance your property's visual appeal but also ensure ease of use for visitors.
Boulder Parking Lot Line Striping
Accurate and highly visible line markings not only make your parking lot look better; by improving traffic flow they also help to keep both drivers and pedestrians safe. At EverLine Coatings, we are proud to deliver very good parking lot line striping results. Our skilled team works to ensure that all line markings are clear, sharp, and long-lasting. To deliver the best possible visual results, we carefully blackout old line markings before applying new ones. We also use TBL Durables traffic coating, known for its durability, to ensure your markings withstand the test of time.


Asphalt Repair in Boulder
Over time, your Boulder parking lot surface might develop cracks, potholes, or other issues. EverLine Coatings specializes in infrared asphalt repair, which is a technique that can reliably restore the structural integrity of your pavement. Our process involves first thoroughly cleaning the area to get rid of any dust or other debris, followed by the application of fresh asphalt material to fill in the cracks or potholes. We use infrared heating to fuse the existing and new asphalt, resulting in a seamless and long-lasting parking lot repair.
Our Pavement Maintenance Work
Before
After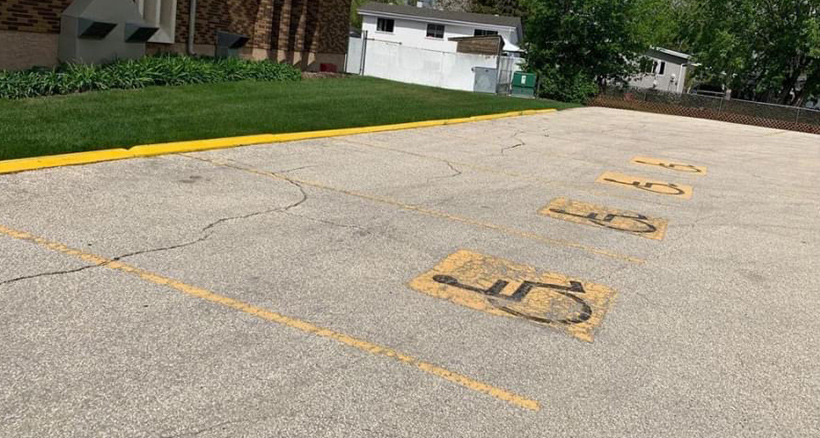 Boulder Asphalt Sealcoating
Did you know that asphalt sealcoating can protect your pavement over the long term? This process covers your parking lot with a protective shield that can defend against the ongoing effects of weather and heavy traffic, preventing wear and tear. By applying two layers of high-quality sealant, we are able to create a barrier that prevents cracking and significantly extends the life of your pavement. Our asphalt sealcoating process has been proven to increase the durability of pavement, which means that it could reduce the amount you need to spend on future repairs.
EverLine Coatings' Parking Lot Repair Services in Boulder
Boulder is known for the bargains on offer at the Pearl Street Mall and the breathtaking beauty of Chautauqua Park. Both tourists and locals love to hike the short and accessible Chautauqua trail to enjoy the stunning landscapes on offer in this region. EverLine Coatings is proud to contribute to the aesthetic of this outdoor-focused community through our professional parking lot services. Our experienced team is well-versed in industry best practices, ensuring precise parking lot line striping and effective asphalt repairs.
We recognize the challenges that Boulder property managers face and strive to make your parking lot repair experience as hassle-free as possible. We handle every aspect of your project, from planning to completion, allowing you to focus on other crucial property management tasks. Contact us today for a free quote, and let us deliver exceptional line markings, durable asphalt repair, and sealcoating services that align with Boulder's commitment to excellence. Just as Boulder's attractions draw in visitors, our services will leave a positive impression on your property.
Fill out the form below and one of our Denver locations will reach out to you for your free quote.
Boulder / North Denver
Phone: (303) 351-2135
Contacts:
Owner – Stephen Collins
General Manager – Jacob Naylor
Serving the Greater Denver area, including: