Parking Lot Maintenance Services
Is your Aurora parking lot in need of a makeover? Faded, worn-out lines and deteriorated asphalt not only give a poor impression but can also compromise the safety of drivers and pedestrians. Don't let a neglected parking lot impact your business or property's reputation. At EverLine Coatings, we specialize in providing top-notch parking lot repair services that will transform your parking area into a well-maintained, safe, and visually appealing space.
Parking Lot Line Striping in Aurora
Clear marked parking lot lines are essential for efficient traffic flow

and the safety of everyone using your parking area. With EverLine Coatings' professional parking lot line striping services in Aurora, we guarantee crisp, vibrant, and long-lasting lines that will give your parking lot a fresh and organized appearance. Our skilled team uses premium-quality traffic coatings from TBL Durables that are highly resistant to wear and tear, ensuring that the lines remain visible and intact for an extended period. Whether you need standard parking spaces, designated accessible markings, or custom symbols, we have the expertise to fulfill your specific requirements. We don't just paint over old lines but black them out to ensure that the new markings really stand out.
Cracks, potholes, and deteriorated areas in your asphalt surface not only detract from the aesthetics of your parking lot but also pose safety hazards. EverLine Coatings' comprehensive asphalt repair services in Aurora are designed to address these issues effectively and efficiently. Our experienced team will assess the condition of your asphalt and provide the necessary repairs using advanced techniques and quality materials. From patching potholes to filling cracks and rejuvenating worn-out areas, we will restore your asphalt surface to its optimal condition. We use infrared asphalt repair, which is a proven technique that involves melting the asphalt to join it with the new material, creating a seamless final surface.
Our Pavement Maintenance Work
Before
After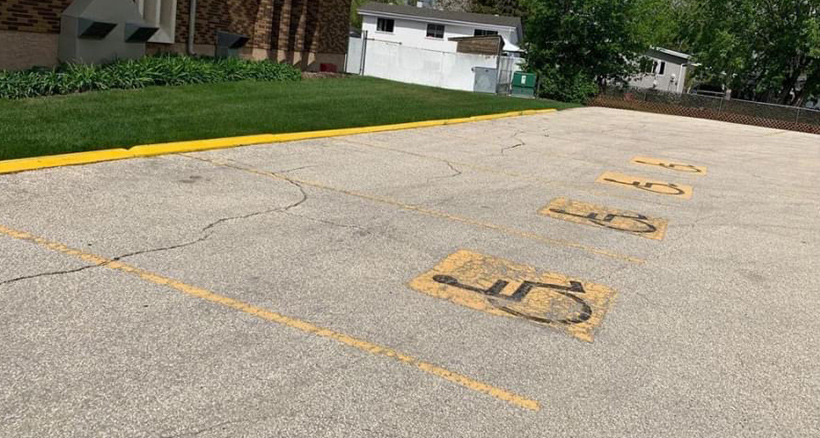 Asphalt Sealcoating in Aurora
Protecting your asphalt surface is crucial to ensure its longevity and minimize the need for costly repairs. EverLine Coatings' asphalt sealcoating services in Aurora provide a durable, protective layer that shields your pavement from the damaging effects of moisture penetration. Sealcoating improves asphalt's resistance to cracks, potholes, and general deterioration. By acting as a barrier, sealcoating helps you save money in the long run by reducing the frequency of parking lot repairs and the need for premature resurfacing. We never dilute our sealants and we always use a double coat, so you can rely on our asphalt sealcoating service to deliver great results.
EverLine Coatings' Parking Lot Repair Services in Aurora
Aurora, which boasts attractions such as the Stanley Marketplace and Aurora Reservoir, deserves parking lots that reflect the city's vibrancy. Whether you manage a retail center, office complex, or any other property or facility, EverLine Coatings is your trusted partner for top-quality parking lot repair services. We know how hard it can be to stay on top of all your many responsibilities as a property manager, which is why we take on every aspect of the project coordination. You can relax and let us handle your parking lot repairs. Contact us today for a free quote!
Fill out the form below and one of our Denver locations will reach out to you for your free quote.
Boulder / North Denver
Phone: (303) 351-2135
Contacts:
Owner – Stephen Collins
General Manager – Jacob Naylor
Serving the Greater Denver area, including: