EverLine's Asphalt Repair & Line Striping Services
In Arvada, CO, EverLine Coatings is your reliable partner for parking lot line striping, asphalt repair, and asphalt sealcoating services. Amidst the breathtaking views, your property's pavements deserve attention and care, and that's exactly what we bring to the forefront.
We love this city just as much as you do, and are committed to protecting its parking lots. Contact us today to find out how we can help you out with parking lot repair and maintenance services that truly go the extra mile.
Parking Lot Line Striping in Arvada

Using top-tier line striping coatings, including the resilient TBL Durables, we ensure your parking lot markings are not only clear and functional but also resilient against Colorado's varying climates. Our focus is not just on striping lines; it's about creating an organized and visually appealing parking area that complements the picturesque surroundings.
Need custom stenciling to guide your users or promote your brand? No problem. Simply get in touch with EverLine Coatings and let us know exactly what you need.
Pothole & Asphalt Repairs
Potholes and cracks can affect any pavement, making it look run-down and posing a risk to drivers and a trip hazard to pedestrians. Our asphalt repair team comes equipped with advanced techniques, like infrared asphalt repair. We seamlessly blend new asphalt with the existing material, providing you with a smooth and durable repair that is sure to last.
Your pavement deserves longevity, and we're dedicated to delivering just that. If you are tired of potholes spoiling the appearance of your property or facility in Arvada, contact us today to discuss your parking lot repair options.
Our Pavement Maintenance Work
Before
After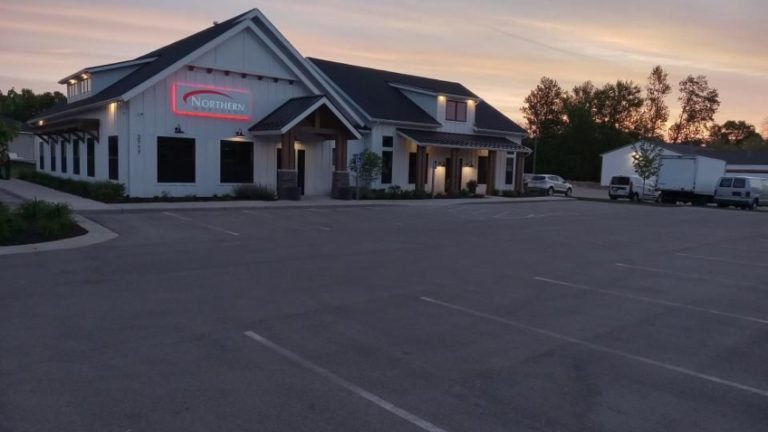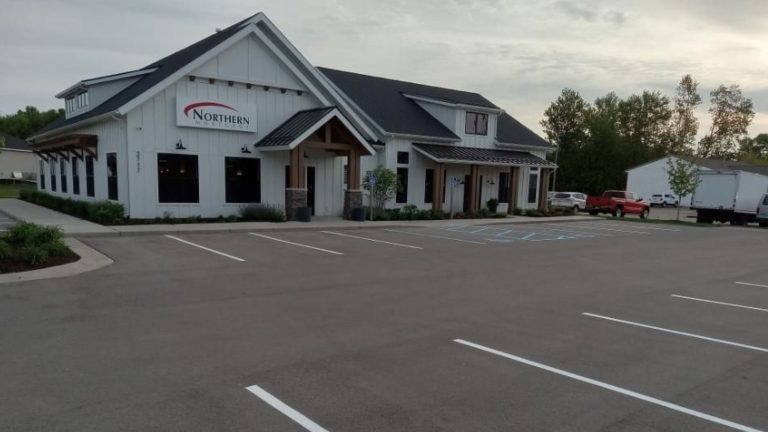 Our asphalt sealcoating service is designed to protect your pavement and make maintaining your parking lot much easier over the years.
After addressing cracks that are already present in your pavement with our infrared asphalt repair technique, we apply a high-quality sealant. This sealant thoroughly coats the surface of your pavement, forming a thick layer that protects against freezing weather, moisture and more.
By taking action today, we can limit crack development and significantly extend your pavement's life, which can ultimately lead to you saving money on parking lot repairs. Our double-layer application ensures optimal protection, safeguarding your pavement for the long run. Why not get in touch today to find out more about the benefits of asphalt sealcoating and how it works to protect Arvada parking lots?
Arvada Parking Lot Line Striping & Asphalt Repairs From EverLine Coatings
Arvada is superbly located, with the Rocky Mountains providing a spectacular backdrop to the city. However, the rain clouds that break on those mountains can bring some harsh weather to the region, making it difficult to keep a parking lot in good condition. That's where EverLine Coatings comes in!
We understand the demands on your time, and our commitment is to make your parking lot repair projects hassle-free and effective. Contact us today for a pavement solution that lasts; we're ready to provide a free quote!
Fill out the form below and one of our Denver locations will reach out to you for your free quote.
Boulder / North Denver
Phone: (303) 351-2135
Contacts:
Owner – Stephen Collins
General Manager – Jacob Naylor
Serving the Greater Denver area, including:
Denver
Castle Rock
Parker
Littleton
Englewood
Greenwood Village
Golden
Lafayette
Broomfield
Thornton
Brighton
Hudson
Commerce City
Gunbarrel