There's something for everyone in Denver, whether your idea of a good time is watching a baseball game at Coors Field, seeing the tigers at Denver Zoo, or jogging in Washington Park. It's a city that likes to stand out, and your business needs to live up to some high standards. Custom stenciling by EverLine can help you boost your business branding, bring a playful vibe to your parking lot, or help to reinforce the rules of your lot.
Enhance Your Business Branding With Custom Stenciling
There are many advantages and uses for custom stenciling. You might choose to improve your business branding by adding logos, slogans, and symbols to your parking lot, all rendered beautifully in your company colors. 
We can also add symbols that are required by law, such as accessible parking, or ones that help lay out the rules of your lot, such as parent and child parking or arrows to direct a flow of traffic. Finally, you may want to add special touches to your lot to create a fun and playful atmosphere – whatever you can think of, we can help you create it!
Choose EverLine For Custom Stenciling That Lasts
At EverLine, we understand that your parking lot is one of your biggest assets and that custom stenciling is an investment. If we're replacing an old design, we black out the old paint before we start, for a crisp and clear look. Our crews have all taken a thorough propriety study and training course to ensure they're ready, and we use only the best products and techniques to guarantee the best results.
Additional Line Striping Services
EverLine Denver also offers a range of interior and exterior line painting services, from interior painting for warehouses and other facilities to parking lot line painting.
Create bright, durable traffic markings to minimize liabilities and improve the flow of vehicles in your property's busy lot with our parking lot striping service.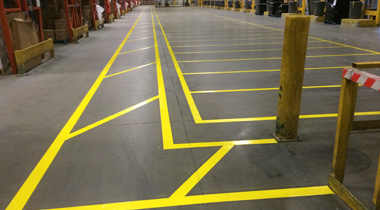 Convey safety messages, enforce boundaries, and communicate the correct way for people and vehicles to move in your bustling building with our interior line painting service.
Our Custom Stenciling Work
Before
After
Custom Stenciling That Upgrades your Denver Parking Lot
Denver is a great place to own a business, with over 700,000 residents always looking for the best things to do, see, buy, and eat. However, it can also be overwhelming, and your parking lot is not always at the top of your priority list. By working with EverLine on custom stenciling, you can improve the look of your parking lot, create a fun vibe, and enhance your business branding. If you're interested in upgrading your commercial parking lot, get in touch with EverLine to discuss your business needs and get a unique quote.
Fill out the form below and one of our Denver locations will reach out to you for your free quote.
Boulder / North Denver
Phone: (303) 351-2135
Contacts:
Owner – Stephen Collins
General Manager – Jacob Naylor
Serving the Greater Denver area, including: