EverLine Denver's Asphalt Pothole Repair Services
Rain, snow, and temperatures below freezing can combine to make potholes and other damage more likely to occur in Denver. This is because water can seep into cracks that have not been sealed and then freeze, expanding the fissure until it becomes wider.
Left unrepaired, potholes can represent a significant obstacle, especially for cars. If you need asphalt patch services in Denver, EverLine Coatings is the company to call. We will repair any cracks or potholes in your asphalt and ensure that your asphalt remains smooth and drivable.
Our Infrared Asphalt Pothole Repair Process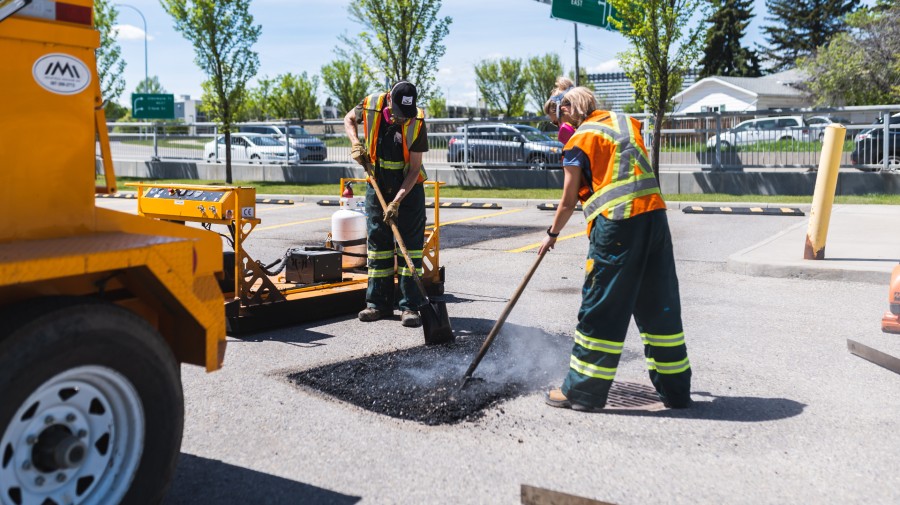 At EverLine Coatings, we use a proprietary infrared asphalt repair process, heating the asphalt to about 300-350 degrees to penetrate the surface layer of pavement and mix the old pavement with the new. The advantages of this method include:
Quick turnaround – Parking lot can be used as soon as 30 minutes after job completion
Quality – Repairs form a seamless watertight patch, preventing future joint failure
Less waste – Leaves little or no waste material
Less labor – Repairs take less than 20 minutes and only require three crew members
Less money – Less manpower, materials, and machinery make infrared asphalt repair extremely cost-effective
You already have a lot on your plate because you are a property manager. EverLine Coatings will ensure that your project is organized appropriately and painlessly, freeing you up to concentrate on other responsibilities.
Asphalt Pothole Repairs and More with Our Pavement Maintenance Program
Your business is a valuable asset, and your parking lot is an expensive component of your operations. When you collaborate with the EverLine Coatings team in Denver, CO, you enjoy hassle-free asphalt repairs.
EverLine Coatings is fully committed to the success of your business, which includes other parking lot services. We offer our Preventative Pavement Maintenance Program to extend the lifespan of your pavement by 50%, which can result in cost savings of 50% or more for your property and CAM costs.
Before
After
Serving Denver With Professional Asphalt Pothole Repairs
Denver, CO is a city filled with unique things to do whether you're visiting or you're lucky enough to call the Mile High City home. Where urban sophistication meets outdoor adventure, Denver is home to museums, restaurants, shopping, and much more. To keep your parking lot asphalt looking its best year-round, contact EverLine Coatings today to find out how we can help!
Fill out the form below and one of our Denver locations will reach out to you for your free quote.
Boulder / North Denver
Phone: (303) 351-2135
Contacts:
Owner – Stephen Collins
General Manager – Jacob Naylor
Serving the Greater Denver area, including:
Denver
Castle Rock
Parker
Littleton
Englewood
Greenwood Village
Golden
Lafayette
Broomfield
Thornton
Brighton
Hudson
Commerce City
Gunbarrel