Santa Clarita Parking Lot Line Striping Services
Creating a safe and organized parking lot can be simpler than you think. EverLine Coatings brings top-notch parking lot line striping services to Santa Clarita, CA, transforming your parking lot with precision and expertise. Our skilled team ensures not only that your lines are clear and visually appealing, but also that your parking lot layout is functional, enhancing traffic flow and safety.
Six Flags Magic Mountain has been enchanting visitors to Santa Clarita for years, with its thrilling rides and adjoining Hurricane Harbor water park. You can trust us to work similar magic on your parking lot, making your old, faded line markings disappear and conjuring new ones in their place.
Parking Lot Line Striping in Santa Clarita
Take a look at the range of parking lot line striping services that EverLine Coatings offers in Santa Clarita.
Starting from scratch? We've got you covered. Our new parking lot striping service sets the foundation for an organized and efficient parking area. Using the highest quality coatings, like TBL Durables traffic markings, we create clear and sharp lines that make your lot stand out. From designated parking spaces to directional arrows, our team ensures every detail is impeccable.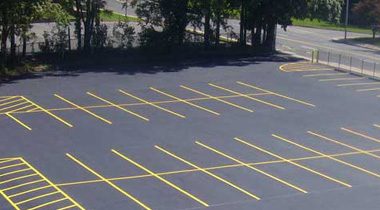 Restriping Old Parking Lots
Already have lines, but they've faded over time? No worries. Our re-striping service rejuvenates your parking lot's appearance and functionality. Faded lines can lead to confusion and safety concerns. We quickly and efficiently re-stripe your lot, restoring its clarity and making your property safer for visitors.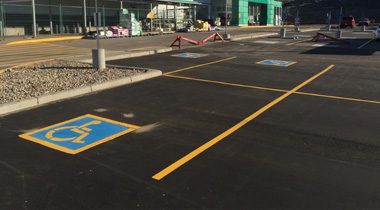 Need more than just standard lines? We offer specialty markings that cater to your unique needs. Whether it's reserved spots, handicap symbols, or loading zone indicators, we ensure all necessary markings are clear and compliant. Our team's attention to detail guarantees that every marking serves its purpose effectively.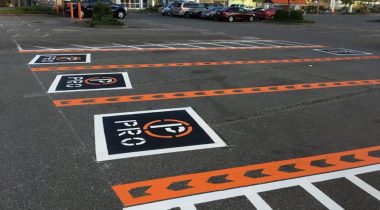 Why Choose EverLine Coatings For Parking Lot Line Striping in Santa Clarita?
EverLine Coatings stands out as a leading line striping service in Santa Clarita. We use TBL Durables traffic coatings, the leading brand in the traffic paint industry, to ensure the longevity of your new line markings. This coating is three to four times more durable than other leading brands, so you could see savings of up to 20-30% over three years.
Allow us to take on your parking lot line striping project and we promise to do a great job. When it's finished, we'll do a full evaluation, providing you with a report with before and after pictures, to ensure you are satisfied with the results.
Before
After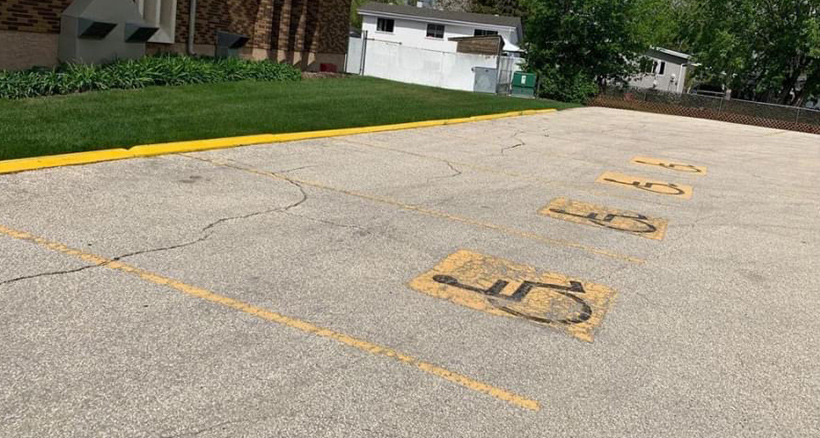 EverLine Coatings' Santa Clarita Parking Lot Line Striping Service
Santa Clarita's attractions, such as the fascinating Vasquez Rocks Natural Area, offer stunning outdoor experiences in the desert environment. As visitors flock to the city, EverLine Coatings can help you to wow them. We are dedicated to enhancing your property's safety and appeal. Our line striping services do more than just paint over old lines; they create order and ensure safety in your parking lot.
Ready to transform your parking lot? Contact EverLine Coatings now for a seamless and professional line striping experience. Get in touch today for a free quote!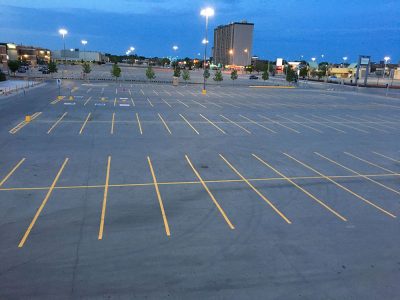 Santa Clarita EverLine Office
Serving the Greater Santa Clarita area, including:
Santa Clarita
Lancaster
Quartz Hill
Palmdale
Lake Los Angeles
Rosamond
California City