EverLine's Asphalt Pothole Repair Services
Crumbling parking lots are all too common in big cities. Phoenix, AZ is no exception. The problem is, customers will judge your business based on how your parking lot looks on the outside. Some will choose not to visit your business because of potholes and an overall lack of maintenance of your parking area.
Getting quality asphalt pothole repair for your property in Phoenix isn't hard. EverLine Coatings is the area's preferred asphalt repair company.
The Best Asphalt Pothole Repair in Phoenix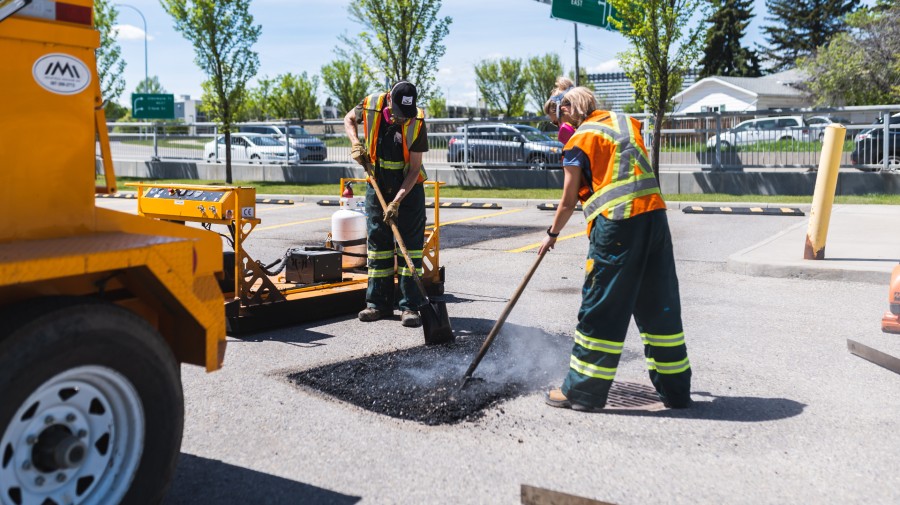 Potholes and cracks can make it difficult, even dangerous for your customers to navigate your parking lot. Along with that, an unmaintained parking lot is simply unattractive and may actually turn customers away. At EverLine Coatings, our infrared asphalt repair is a quick and easy fix while also protecting your pavement long-term.
Our infrared asphalt repair involves heating up the area to around 300-350 degrees in order to melt the pavement into place. After that, we add whatever extra asphalt is needed to fill the hole. The new asphalt is compacted in order to create a watertight and seamless patch. From start to finish, this process is fast, allowing you to use your parking lot in as little as 30 minutes.
EverLine knows that you're juggling a lot. We make sure your project is coordinated and hassle-free. We also understand that your pavement is an expensive asset, so we've designed long-term solutions that produce the best ROI.
We are fully committed to the success of your property, which is why we have a Preventative Pavement Maintenance Program that can double the life of your pavement.


Our Asphalt Pothole Repair Work
Before
After
Invest in Your Commercial Pavement with EverLine Coatings' Asphalt Pothole Repair Services
A large city such as Phoenix has plenty of advantages, but a major disadvantage to being a property or facility manager in the area is that you have competition. Your property has to look the part to play a role in Phoenix's busy bustle of restaurants, shopping centers, and recreational centers. A grimy or crumbling pavement simply won't compete. Luckily, quality pothole repair is offered by EverLine Coatings. Our team is committed to making property maintenance easy.
Contact EverLine Coatings to request a quote today!
Fill out the form below and one of our Phoenix locations will reach out to you for your free quote.
East Phoenix & Scottsdale
Phone: (480) 269-6262
Contacts:
General Manager – Caleb Howard
West Phoenix & West Valley (Green)
Phone: (785) 706-1021
Contacts:
General Manager – Blake Linthicum
Sales Manager – Lauri Wolfe
Gilbert, Chandler & SE Phoenix (Blue)
Phone: (480) 269-1094
Contacts:
Owner – Elie Zohoun
Serving the Greater Phoenix area, including:
Apache Junction
Avondale
Buckeye
Casa Grande
Chandler
Deer Valley
Eloy
Florence
Fountain Hills
Gilbert
Glendale
Maricopa
Mesa
Morristown
North Mountain
Paradise Valley
Peoria
Phoenix
Queen Creek
San Tan Valley
Scottsdale
Sun Lakes
Surprise
Tempe