Northwest Arkansas Line Striping Services
Are you in need of professional line striping services for your parking lot in Northwest Arkansas? Look no further than EverLine Coatings. We understand that as a property owner or manager, you want your parking lot to be safe, well-organized, and visually appealing. That's where we come in. Our team is here to guide you through the process, addressing your specific needs. We promise that you'll be satisfied with the results!
Take a look at the range of line marking services offered by EverLine Coatings in Arkansas-NW.
Restriping Old Parking Lots
Over time, parking lot lines can fade and become less visible, posing a safety hazard and diminishing the overall appearance of your lot. Our re-striping services are designed to refresh the existing lines, restoring their visibility and improving the aesthetics of your parking area. We take pride in delivering results that exceed your expectations.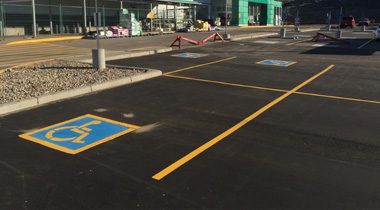 If you have a new parking lot that requires fresh line striping, EverLine Coatings has you covered. We have the expertise and equipment to create clear and well-defined parking spaces, as well as other essential line markings to promote efficient traffic flow.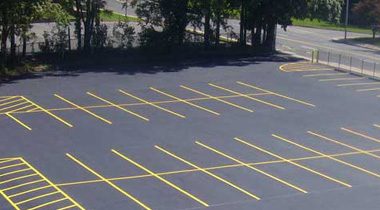 At EverLine Coatings, we understand that each parking lot is unique and may require specialty markings. Want to add custom symbols to promote your company branding? No problem. Let us guide you through the process and provide tailored solutions for your parking lot.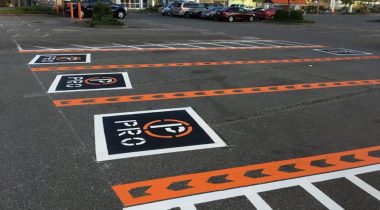 Why Choose EverLine for Line Striping?
When it comes to line striping in Northwest Arkansas, EverLine Coatings stands out from the rest. Our team's technical knowledge and expertise in traffic paints and coatings ensure that we meet the highest industry standards. We are committed to your satisfaction and conduct a full evaluation after completing your project. In fact, we provide a comprehensive report with before and after photos, so you can see the remarkable transformation we've achieved.
EverLine Coatings proudly partners with TBL Durables, the leader in the traffic coating industry. TBL Durables' products offer exceptional durability, with our exclusive line striping coating being three to four times more durable than regular traffic paint. This means that your parking lot lines will last longer, saving you money in the long run. Furthermore, TBL Durables is known for its environmental friendliness and LEED compliance, making it an excellent choice for sustainable projects.


Before
After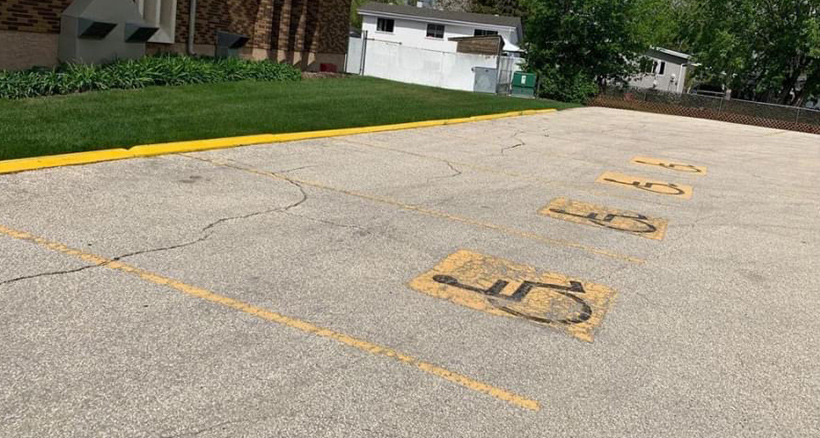 EverLine Coatings' Line Marking Service in Northwest Arkansas
Northwest Arkansas is known for its scenic beauty. One popular attraction is the renowned Crystal Bridges Museum of American Art, where masterpieces from renowned artists grace the galleries and the surrounding nature trails provide a tranquil retreat. Additionally, the lively Fayetteville Square offers a charming blend of local shops, restaurants, and community events, showcasing the vibrant spirit of the region. These local attractions exemplify the rich culture and natural wonders that make Northwest Arkansas a destination worth experiencing.
Ready to enhance the safety, organization, and visual appeal of your parking lot? Choose EverLine Coatings for professional line striping services, whether you're creating a parking lot from scratch or refreshing an existing parking lot. Reach out today to request your free quote!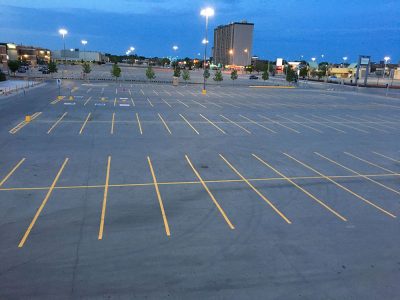 Northwest Arkansas EverLine Office
Serving the Greater Northwest Arkansas area, including:
Russellville
Harrison
Bentonville
Fayetteville
Rogers
Springdale
Fort Smith
Van Buren
Siloam Springs
Eureka Springs
Lowell
Alma
Farmington
Centerton
Prairie Grove
Bella Vista
Pea Ridge
Ozark
Gravette
Gentry
Barling
Cave Springs