EverLine's Custom Stenciling Services
Birmingham, Alabama is a great place to own a business, whether you're part of the vibrant shopping scene or the fantastic foodie sphere. However, it's also a city that sets some high standards, with stunning natural scenery and a bustling, vibrant Downtown area. It's important for your business to stand out from the crowd, and your parking lot naturally forms the first impression for potential customers and clients. With custom stenciling by EverLine, you can create a fun, playful space that's attractive and easy to use.
Upgrade Your Parking Lot With Custom Stenciling
EverLine offers many different types of custom stenciling. You might want to show off your brand-new logo or enhance your business branding with stencils in your company colors. We can also help you add slogans and symbols, as well as any other type of graphic you can think of. If there's something you think would enhance your parking lot, we're committed to helping you create it.
We can also create designs that are required by law, such as those that show accessible parking lots. Whether you want to make your parking lot safer or more branded, our stencils are created using the best design techniques and materials to ensure they look incredible and last a long time.
Why Choose EverLine Coatings For Custom Stenciling
Our EverLine team begins every project by working out exactly what you want, and reviewing data sheets and manufacturer guidelines so we can create your designs in the best possible way. Your project will be carried out in a way that minimizes disruption to your business, and each member of our team has taken a thorough study and training course to make sure they're ready for your project. We'll keep you informed about our progress throughout the process.
We're committed to creating designs that look amazing and are long-lasting, and we don't take shortcuts. Whether we're repainting an old design or creating a new one, we'll black out any old designs first to ensure a clear, crisp look.
EverLine also offers a range of additional line painting services, whether you're looking for interior lines for a warehouse or for parking lot line striping services.
Create bright, durable traffic markings to minimize liabilities and improve the flow of vehicles in your property's busy lot with our parking lot striping service.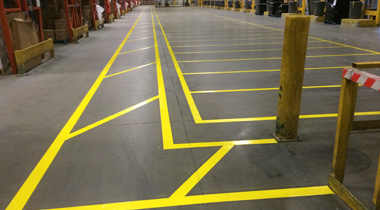 Convey safety messages, enforce boundaries, and communicate the correct way for people and vehicles to move in your bustling building with our interior line painting service.
Our Custom Stenciling Work
Before
After
At EverLine, we know what a great place Birmingham is for business owners, with over 190,000 residents and plenty of visitors to attract to your business. However, it can also be a little overwhelming, and it's easy to forget about the impression your parking lot makes. If you want to take the stress out of parking lot design and maintenance, working with EverLine is a great way to do so. Get in touch today to discuss custom stenciling and get a quote.
Birmingham EverLine Office
Serving the Greater Birmingham area, including:
Birmingham

Pelham
Alabaster
Calera
Leeds
Pell City
Chelsea
Sylacauga
Oxford
Anniston