EverLine's Asphalt Services
As a property manager in Tuscaloosa, AL, you want your parking lot to function as well as it possibly can, and also look great! If the asphalt is deteriorating and the parking lot lines are fading, your property may appear run down. Asphalt repair and parking lot line striping must be done on a regular basis to keep your parking lot in good condition.
EverLine Coatings provides professional parking lot line striping services, as well as asphalt repair, in Tuscaloosa. We also provide asphalt sealcoating, which can postpone the need for parking lot repairs in the future. Best of all, we take on the management of every job, so you can focus on your other responsibilities.
Parking Lot Line Striping in Tuscaloosa
Parking lot lines gradually fade over time, which makes it harder for drivers to park safely and considerately. 

To improve the look of your parking lot and make it safer to use, EverLine Coatings offers a parking lot line striping service. We can turn an empty area into a useful parking lot, or refresh the lines on an existing lot. We can even add special markings for things like bicycle routes, crossings, and walkways.
To make sure that all markings are as precise and clear as possible, we remove the old lines before painting the new ones. This process gives a clear, crisp, bright finish for all line markings. We have an exclusive license for the private use of TBL Durables traffic paint throughout North America. The outstanding endurance of this paint can lead to cost savings over time. Get in touch today to find out more about the durability benefits of TBL Durables.
Asphalt Repair in Tuscaloosa
When asphalt starts to crack and crumble, it's important to have it fixed as soon as possible. Cracks that are ignored can quickly grow into potholes, which make your parking lot a very unpleasant place for both drivers and pedestrians.
At EverLine Coatings, we repair asphalt using the method of infrared asphalt repair. Our team heat the existing asphalt to temperatures exceeding 300 degrees in order to melt it and reshape it, adding more material as necessary. The results are seamless, and the technique is also environmentally friendly.
Our Pavement Maintenance Work
Before
After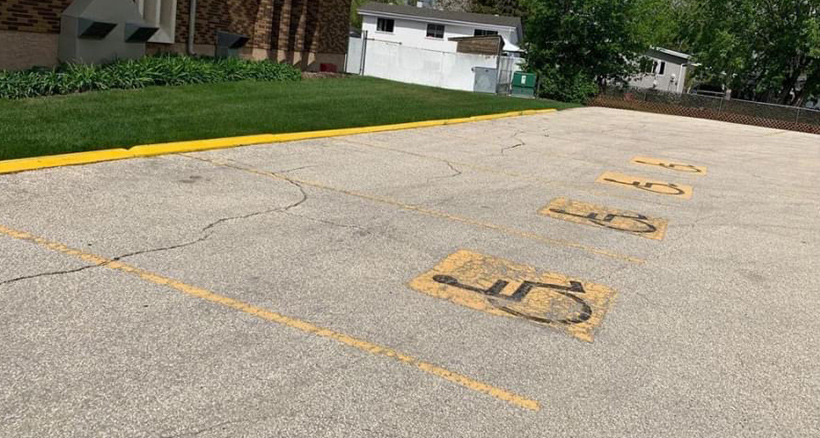 Asphalt Sealcoating in Tuscaloosa
EverLine Coatings not only repairs asphalt, but also allows you to protect your pavement to reduce the need for asphalt repair. Our sealcoating technique creates a surface that is smooth, high-traction, and safe. For the highest quality finish, we clean the area before we apply a double layer of undiluted sealant.
EverLine Coatings Parking Lot Repairs in Tuscaloosa
Tuscaloosa is a charming city located near the banks of the Black Warrior River. One of its most notable landmarks is the University of Alabama, which boasts a beautiful campus and is home to the Crimson Tide football team. A must-visit attraction is the Tuscaloosa Riverwalk, a scenic path that offers stunning views of the city. As a property manager in Tuscaloosa, you can enhance the appearance of your parking lot through parking lot repairs. EverLine Coatings is happy to offer quality asphalt repair, asphalt sealcoating, and parking lot line striping. Contact us today for a free estimate!
Birmingham EverLine Office
Serving the Greater Birmingham area, including:
Birmingham

Pelham
Alabaster
Calera
Leeds
Pell City
Chelsea
Sylacauga
Oxford
Anniston