Line Striping & Asphalt Repair Services
If you want your property in Talladega, AL to stand out from the crowd, it is important to keep on top of parking lot repairs. Faded lines and worn-out asphalt can ruin the first impressions of your customers or visitors. That's where EverLine Coatings comes in. We offer a range of services designed to transform your parking lot into a safe and smart-looking space. Let us manage your parking lot repairs so you can get on with your regular duties as a Talladega facility manager.
Talladega Parking Lot Line Striping
Sharp and visible parking lot lines are the key to a safe

parking area. Our expert team can repaint fading parking lot lines, or create a parking lot from scratch on an empty lot. With our attention to detail and commitment to using top-quality materials like TBL Durables traffic paint, we create vibrant and durable line markings. We don't just paint over old lines, but remove them before applying the new ones to create a clearer finish. Whether you need standard parking lines, custom markings for designated areas, or even branded markings, our team is up for the challenge.
TBL Durables traffic paint is a game-changer in the world of parking lot line striping. Its vibrant colors and exceptional durability ensure that your parking lot lines stay sharp and eye-catching for as long as possible. You can therefore save money on parking lot line striping over the long term.
Don't let cracks and potholes slow down your company's journey to success. EverLine Coatings utilizes innovative asphalt repair techniques to address these issues. From filling minor cracks to repairing larger potholes, we've got you covered. We understand the need to minimize parking lot downtime, which is why we employ infrared asphalt repair. This method heats the asphalt to high temperatures, allowing us to reshape and restore it quickly and seamlessly. The results are long-lasting and high quality.
Our Pavement Maintenance Work
Before
After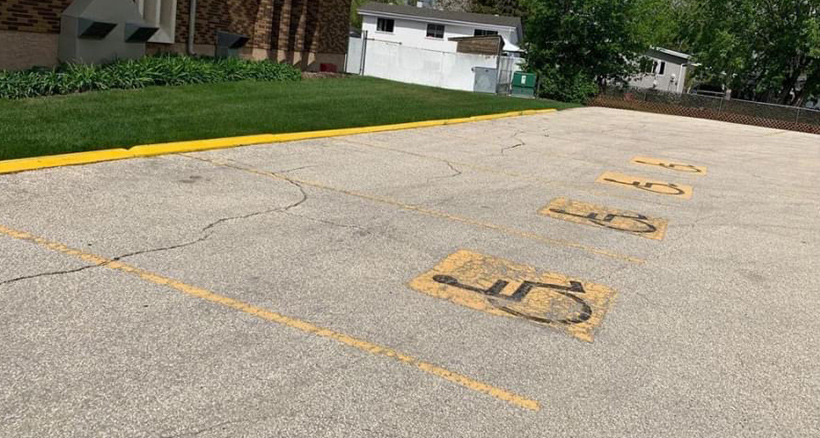 Talladega Asphalt Sealcoating
Prevention is the name of the game when it comes to maintaining the longevity of your parking lot. EverLine Coatings offers asphalt sealcoating services that provide a protective shield on top of your pavement. Our sealcoating process creates a smooth and resilient surface that enhances the appearance, functionality, and durability of your asphalt. We use high-quality sealants, which we never dilute, and apply two coats to ensure you gain maximum benefits from the sealcoating process.
EverLine Coatings' Parking Lot Repair Services in Talladega
Talladega is not only famous for its speedway but also boasts a rich history and some spectacular local scenery. Visitors and locals can immerse themselves in the excitement of NASCAR races or explore local gems like the Talladega Superspeedway Museum. Quieter attractions include the Pinhoti National Recreation Trail, which is a beautiful place to hike.
With EverLine Coatings' parking lot repair services, you can enhance your property's parking lot while embracing the success-seeking spirit of Talladega. We don't just deliver exceptional results; we're also committed to making the process enjoyable and stress-free for our clients. Contact us today for a free quote!
Birmingham EverLine Office
Serving the Greater Birmingham area, including: