Power Washing in Winnipeg
Our Winnipeg EverLine location provides professional, high quality line painting services to all of Winnipeg and surrounding communities. We use premium materials and equipment and can work within your business's budget.
About our Winnipeg Power Washing Services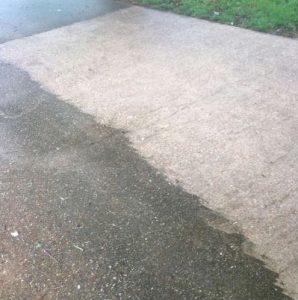 The harsh winters in Winnipeg often leave a mess behind in the springtime. Properties in Winnipeg are often left covered in salt, gravel, dirt or dust once the snow melts. A property that looks dingy or dirty to people passing by can have a significant impact on how potential customers perceive your business.
Because of this, it's good to get in the habit of having the exterior of your building cleaned regularly. At EverLine Coatings and Services, we can help you keep the exterior of your building looking as clean as the day it was built.
We have highly trained professional pressure washers and power washing crews to make any property in the Winnipeg area look as good as new. Our crews have decades of experience and have been trained to professionally wash all types of buildings, sidewalks, parking lots, and parking garages. Whether you have a brick surface, metal or concrete, we can make it look brand new again.
At EverLine Coatings and Services, we have highly trained crews with decades of experience. It's important to note that not all power washing services are the same. Our team is committed to providing the best quality power washing services to Winnipeg and its surrounding areas. We train our crews regularly with the latest and greatest equipment available in the power washing industry.
One of the key differentiation factors about EverLine's power washing services is the fact that we wash properties with hot water. By using hot water, we can cut through more dirt and grime than our competitors that wash with cold water to make your property shine. Our high-pressure cleaning equipment and power washing professionals work hard to deliver results that will exceed your expectations every time.
We are the Power Washing Experts
We are considered the Power washing experts in Winnipeg. This is because of our years of experience and our commitment to continue training our power washing crews to deliver better cleaning for your property. Our power washing crews have seen and done it all when it comes to power washing. They know what the best way to wash a particular property or surface is for a quality cleaning job every time.
At EverLine Coatings and Services, we are committed to three fundamental values that enable us to deliver the best services possible. We are committed to continually innovating our services, providing systematic quality with our services, and we will always answer the call when you need our services.
If you are expecting power washing services from one of EverLine's crews in the near future, there are a few steps you can take in preparation to ensure our crews can efficiently provide some quality cleaning services. First, please ensure that the water at your property has been turned on. If there is no water supply, then we can no power wash your property. Next, please ensure that any obstacles or debris have been removed so that our crews can access the surface to be cleaned and to ensure their safety.
At EverLine Coatings and services, we are committed to delivering quality services with great value to all of our clients. Because of this, each power washing project we undertake is priced on a per job basis. Each power washing job has many complexities that can affect the cost of the project. Things like square footage and the amount of debris play a significant role in the overall cost of the project. We work hard to get all of the details to ensure that we can work within your unique budget and provide results that will exceed your expectations. If you require a quote for your next power washing project, please contact us.
Surrounding Communities Serviced
Winnipeg
Brandon
Portage la Prairie
Steinbach
Selkirk
St. Andrews
Gimli
West St. Paul
East St. Paul
Stonewall
Headingley
Winkler
Altona