Parking Block & Speed Bump Installation in Windsor
Installing parking blocks and speed bumps with EverLine Coatings is a wise investment. Benefits include better vehicle management and increased safety against Windsor winters.
EverLine Windsor's Parking Block and Speed Bump Installation Services
As a facility manager or owner, your responsibilities are many, and managing the parking lot can be a chore. The Windsor weather can make this responsibility especially difficult.
This wear and tear can make your lot unsafe and increase your liability. So what can you do to ensure the safety of vehicles and pedestrians even in the harsh winter weather? EverLine Windsor can install quality parking blocks and speed bumps that make your parking lot a safer place.
Benefits of EverLine's Parking Block and Speed Bump Installation Services
Parking blocks and speed bumps direct cars and pedestrians and protect both your Windsor area patrons and your property.
We've all made mistakes while parking; it happens. Parking blocks help drivers know when they've gone too far. They can create barriers around buildings, light posts, planter boxes, and more, preventing accidental damage. If you're trying to decide whether to commit to a long-term parking lot configuration, we recommend it; parking blocks are easy to install, versatile, and customizable.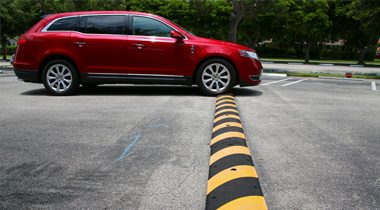 Speed bumps offer additional safety in your parking lot, especially for larger lots with long straightaways.
They remind cars to proceed with caution and slow down. Slowing traffic and enforcing stop signs with speed bumps can help reduce your liability.
Work With an Industry Leader
After your parking blocks or speed bumps are installed, our Preventative Pavement Maintenance Program shows our commitment to the success of your property. This program typically doubles the life of your pavement, so you continue to save money and CAM costs.
Parking Block and Speed Bump Installation Windsor Businesses Can Count On
Windsor, Ontario is a community full of culture and fun. From museums to festivals to days spent on the golf course, the places to visit are as unique as the people. Whether you have a pop-up event and need temporary parking guidance or a permanent location, your property deserves to look and function at its best.
Installing parking blocks and speed bumps can help direct visitors where to park and help reduce accidents. Let EverLine help you today by getting a free quote.