Power Washing in Vancouver
Our Vancouver EverLine location provides professional power washing services to all of Vancouver and it's surrounding communities. We use the best power washing equipment available to make your property shine like it's brand new again.
About our Vancouver Power Washing Services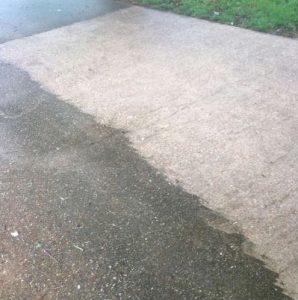 Buildings and properties get dirty over time. If you don't have your property cleaned every once in a while, it will start to look dirty and lose it's shiny new look. Fear not, at EverLine Coatings and Services, we have the perfect solution for you. Our professionally trained power washing crews can have your property looking like new again in no time. We have the best power washing equipment in the industry and well trained crews that can clean your property without damaging it. Our crews have decades of experience in washing sidewalks, pathways, all types of buildings, parking lots and parking garages. Our crew can make brick, metal, concrete, asphalt or virtually any surface on your property look brand new again.
Winter can leave unwanted debris behind in your parking lot. The unwanted mess can make your lot look run down and even cause durability issues. Whether it's covered in salt, gravel or dirt, our power washing teams can make it look great again. Let us clean up whatever winter or the users of your lot left behind. Our power washing services are the best thing to get your property cleaned up and ready for spring. Contact our Vancouver office for more information today.
Not all power washing services clean to the same standards. At EverLine Coatings and Services, we are committed to delivering the best quality cleaning service possible. Because of our professionally trained team and industry leading power washing equipment, we are able to deliver value with our power washing services that cannot be matched by our competitors. One of the biggest advantages we have over our competitors is that we have the needed equipment to wash with hot water. Just like washing your vehicle, power washing buildings and properties with hot water is better at cutting through dirt and grime than cold water.
We are the Power Washing Experts
At EverLine Coatings and Services, we are considered power washing experts from our decades of experience cleaning a variety of properties and surfaces. Our professionally trained crews have the needed training to ensure they're ready to handle any cleaning situation and work with anything you need power washed on your property. Our crews use the equipment available in the industry to ensure a quality job every time. No matter what type of surface is being cleaned, you can trust EverLine to make it look great again.
In order to ensure that our crews can provide a quality power washing service in a timely manner when they get to your property, we have a few steps we ask you to take in preparation.
Please ensure the water supply is turned on

Please clean the area of any debris or obstacles
Please inform any users of the property that we will be cleaning for our safety
The safety of our crews is a top priority. Following these steps will ensure the safety of our crews and that we can provide our services in a timely manner without any interruptions.
Ensuring your business receives the best value on power washing services is very important to us at EverLine Coatings and Services. This is why we do not offer flat rate pricing instead are pricing is based on a per job basis. There are many factors that can affect the pricing of a power washing project and we need to know your project details before providing a price. Through working with your business we can provide a price that will work within your budget. If you require a quote for a power washing project you need completed please contact us.
Vancouver EverLine Office
Surrounding Communities Serviced
North Vancouver
West Vancouver
South Vancouver
Burnaby
Coquitlam
Maple Ridge
New Westminster
Surrey
White Rock
Delta
Richmond
Vancouver Island