Power Washing in Sudbury/North Bay
Has your property become dingy or just doesn't look like it used to? Well the professional and experienced power washing crews at EverLine Coatings and Services can have your property looking like new again.
About our Sudbury/North Bay Power Washing Services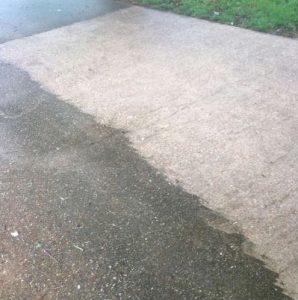 Has the winter or harsh weather conditions left your property covered in salt, gravel, dust or dirt? A dingy or dirty looking property can affect the way that your property is perceived. Ensuring that your property is regularly cleaned is a great way to keep it looking great and will help it stand out. When it is time for your property to undergo a thorough cleaning trust the experts at EverLine Coatings and Services to get the job done right. 
At EverLine Coatings and Services we have highly trained power washing crews that use professional-grade equipment to make properties in the North Bay and Sudbury area shine like new again. Our experienced pavement maintenance crews are highly trained in power washing sidewalks, all types of buildings, parking lots and parking garages. Whether your surface is brick, metal or concrete we can have it looking like new again.
Not all power washing services are created equal, and at EverLine Coatings and Services we are a step above the rest. Our team has a passionate commitment to providing high quality power washing services that will surpass your expectations. In order to make sure we are delivering high quality services we specially train all of our power washing crews to deliver the best results possible, and provide them with the highest quality equipment available.
We also believe that innovation is a key component to delivering services that surpass those of our competitors. This is why our power washing crews use hot water power washing equipment. By using hot water we are able to cut through the grime and dirt left on your surfaces even more effectively and really make your property look like new again.
We are the Power Washing Experts
The Power washing crews at EverLine Coatings and services are experts because of their years of experience and commitment to ongoing training. Our power washing crews have been cleaning properties for years and have learned the most efficient and effective ways to clean any type of property. No matter the property, no matter the dirt our crews have seen it and cleaned it before. 
At EverLine our crews know that being experienced isn't enough, that is why they are still committed to regular training. In order to be constantly innovating our crews must constantly be learning about new equipment and cleaning methods. By training our crews with the most up to date information we ensure they are at the cutting edge of power washing services.
In order to ensure our power washing crews can perform their services efficiently and effectively there are a few steps your business can take prior to their arrival. First and most importantly please ensure that the water at the property has been turned on. If there is no water then there is no way for us to provide any power washing services. Second please make sure any obstacles or large pieces of debris have been cleared from the area to allow our crew to work efficiently.
EverLine Coatings and Services is a value focused company offering the best possible prices for our clients. This why why all of our power washing services are priced on a per job basis. There are several different factors that can affect how much our power washing services will cost, such as square footage, amount of debris, etc. We want to learn about all the details of your property before quoting you a price. We will work closely with you to make sure we can deliver quality services within your budget.
Phone: (705) 918-0143
Address:
265 Montcalm Ave.
Sudbury, Ontario P3C 5C8
Contacts:
General Manager – Éric Lavergne Giroux
Surrounding Communities Serviced
Astorville
Bonfield
Elliot Lake
Espanola
Kirkland Lake
Manitoulin Island
Markstay
Nipissing
North Bay
Parry Sound
Sudbury
Temiscaming
Timmins
Walden
West Nipissing
White Fish
Yellek