Asphalt Sealcoating in Sudbury
EverLine Coatings Sudbury provides asphalt sealcoating services that allow Sudbury property owners and managers to maximize the life of their pavement surfaces.
EverLine's Asphalt Sealcoating Services
Beautiful Sudbury is a fabulous place to live. A diverse community and strong economy make it an ideal place to raise a family or own a business. As a property manager in Sudbury, you want your business, including your parking lot, to live up to the beauty of the rest of this dynamic city.
At EverLine Coatings and Services in Sudbury, we understand that your parking lot is a significant asset, and you want it to provide the maximum ROI. But if you don't properly maintain it, it won't last as long as it should. As a result, you may wind up spending tens of thousands of dollars on resurfacing. So how can you avoid that headache? Expert asphalt sealcoating services from EverLine Coatings are the ideal way to protect your Sudbury parking lot.
Asphalt Sealcoating Advantages
EverLine Coatings Sudbury is unmatched in our expertise when it comes to asphalt sealcoating. We use a proven approach that begins with the application of asphalt-based waterproofing material. This seals cracks and prevents water permeation and prevents potholes and cracks that can reduce your asphalt's lifespan.
In addition to slowing pavement deterioration, sealcoating has many benefits including:
Adds a slip-resistant surface
Creates a polished, like-new appearance
Is less expensive than replacing pavement
Prevents UV damage
Prevents damage from oil and moisture
The EverLine Coatings Difference
When you choose EverLine Coatings for your asphalt sealcoating service you get more than just another contractor. We are fully committed to the success of your property! Here's how we are different:
We ensure your project is coordinated properly so you can focus on other tasks
We provide a report with before and after photos
We conduct a project evaluation to make sure you are fully satisfied
Our professionals have undergone rigorous training
Everline Coatings – Your Sudbury Asphalt Sealcoating Experts
Home to about 166,000 people and centrally located in Northeastern Ontario, the bustling city of Sudbury is a busy place. As a property manager in Sudbury, you are busy, too!
At EverLine Coatings Sudbury, we understand that you are constantly juggling multiple tasks. When you partner with us for asphalt sealcoating services, you'll have peace of mind that your parking lot is properly maintained. Contact us for a free estimate!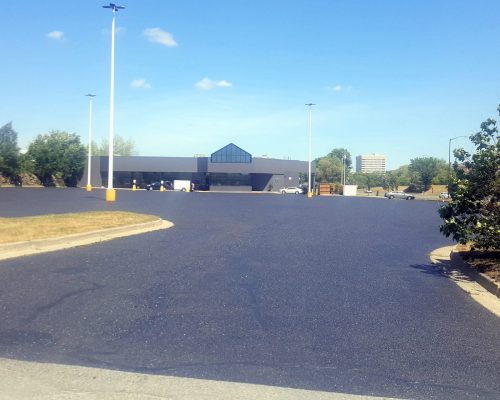 Phone: (705) 918-0143
Address:
265 Montcalm Ave.
Sudbury, Ontario P3C 5C8
Contacts:
General Manager – Éric Lavergne Giroux
Surrounding Communities Serviced
Astorville
Bonfield
Elliot Lake
Espanola
Kirkland Lake
Manitoulin Island
Markstay
Nipissing
North Bay
Parry Sound
Sudbury
Temiscaming
Timmins
Walden
West Nipissing
White Fish
Yellek