Superior Line Painting & Pavement Maintenance in Sudbury/North Bay
The EverLine Coatings and Services office located in the Sudbury and North Bay area offers a full suite of parking lot maintenance services. Whether you need line painting, sweeping, asphalt sealing or snow removal our team can handle it.
Our clients save 20-30% over 3 years with our exclusive TBL traffic paint product.
From clear markings to slip-resistant coatings, we help you keep people safe.
Properties that look great create more value for employees and customers.
EverLine Coatings Removes the Stress From Property Maintenance
EverLine Makes It Simple To Keep Your Property Performing
Before
After
EverLine Coatings can help transform your paved surfaces! Request a free quote and get a your customized digital proposal. All of our proposals come with a personal video walking you through all the details of your scope of work. This means you will know what to expect before your project begins!
More About Your Sudbury/North Bay EverLine Coatings
Eric is the proud owner of the EverLine Coatings and Services franchise for Greater Sudbury, North Bay, and surrounding communities in Northern Ontario. From a young age, it was evident that Eric had a passion for entrepreneurship. His first true entrepreneurial endeavour took place during his undergraduate studies as he owned and operated a residential painting franchise. This experience helped him develop a strong work ethic as well as customer service and leadership skills.
From 2017 to 2018, Eric worked in Economic Development with the City of Greater Sudbury as Business Information Officer. In this position, Eric took his knowledge, experience, and passion for entrepreneurship and assisted folks with the start-up and expansion of their businesses.
Eric graduated Magna Cum Laude from Laurentian University in June 2015 with an Honours Bachelor's Degree in Commerce and is currently completing his Master's in Business Administration.
In his spare time, Eric enjoys fishing, hiking, and camping, as well as competing in many different sporting activities.
With EverLine Coatings and Services, Eric is ready to revolutionize the pavement marking industry by servicing clients with levels of communication, quality, and customer service never before experienced.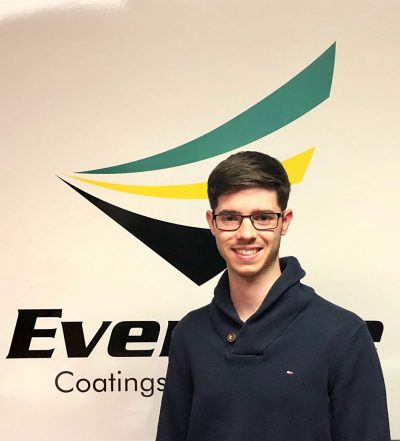 Call or fill out the form to get a detailed scope of work, including a personalized video explaining exactly what work will be completed.
We'll make sure your project is coordinated properly with no hassle, so you can focus on other tasks.
We'll complete the work. After your project is done, you'll receive a detailed report with before and after photos.
"Very Good Customer Service"
"I recently commissioned the painting of a pedestrian walkway along one of the private streets within our bare land condominium community. The crew contacted me prior to doing the work with some questions, and they shared photos with suggested options. We agreed upon some changes to the original plan. It was a very good customer experience and the final product is great! I will definitely contact EverLine for future line painting work in the community."

Ivan R.
EverLine Was Prompt & Professional
"EverLine was excellent to work with. I had new lines and 4 new handicap spaces painted into the 4 visitor parking lots at our condo. The outside parking lots and walkways look new, and our residents are very happy. We had them clean our very large underground parking lot. This large coordination was an actual feat. EverLine was prompt, professional and did an amazing clean up! I would highly recommend this company to anyone."

Tudor Manager
Phone: (705) 918-0143
Address:
265 Montcalm Ave.
Sudbury, Ontario P3C 5C8
Contacts:
General Manager – Éric Lavergne Giroux
Surrounding Communities Serviced
Astorville
Bonfield
Elliot Lake
Espanola
Kirkland Lake
Manitoulin Island
Markstay
Nipissing
North Bay
Parry Sound
Sudbury
Temiscaming
Timmins
Walden
West Nipissing
White Fish
Yellek