At EverLine Coatings and Services, we get calls from clients to paint all kinds of different line markings! It never ceases to amaze us with how many things really need high-quality line-markings. One of the things that most people overlook when it comes to lines being painted is their sports courts on their properties.
Think of it this way, without lines, how can you enforce the rules of a sport? How do you know when you've scored a 3 point shot in basketball? How do you know where to face off when playing hockey? And how will you know what the boundary lines are for tennis, badminton, and volleyball?
To show you how important it is to maintain the line-markings for your sporting court and showcase how good freshly painted lines can look on your court, we've got some examples of our sports court line painting work and diagrams to show you why the lines were painted.
Basketball Court Markings
Basketball court markings are essential for any game of basketball. Without the right lines, you won't know where to start the game, where to resume, what some shots are worth, or even what would be considered out of bounds.
To give you an example of what kind of markings are needed for a regulation-sized basketball court, here is a custom sports court we painted that includes regulation basketball court markings.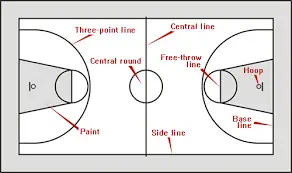 As you can see in the basketball court diagram above, the following types of lines are present for game rules:
Sidelines to determine when the ball goes out of bounds.
Baselines and endlines (offensive/defensive) to also determine when the ball goes out of bounds on either end.
A midcourt line for jump balls to start or resume the game as well as other game rules.
Three point lines to determine the value of shooting a hoop.
Free throw or foul shot lines to determine where free throws should be taken from after a game foul or another violation.
Lane lines to determine where the shooter for a free throw should be and where the other players need to stand during a foul shot.
All of these basketball court markings are essential for playing the sport. Without them, it's really hard to estimate where things should take place! To keep a game of basketball fair and accurate, it's crucial to have high-quality basketball line-markings. EverLine can paint basketball line markings with our exclusive TBL Durables paint product to ensure that your basketball court will look great for years to come. Our lines will make every game that you play the best one yet!
Tennis Court Markings
Much like basketball courts, if you're playing Tennis, you're going to need quality Tennis court markings too! Tennis is a fast-paced sport. The average hobbyist tennis player serves a ball at speeds upwards of 80 km/h! Without quality line-markings, it can be very difficult to play by the rules and keep score.
This picture of a multi-sport court that we painted will help you envision the boundary lines that are needed for an effective tennis court. If you don't know where to serve from or where the sports court boundaries are, it's really hard to play tennis!

If you take a look at the tennis court diagram above, the following types of lines are present for game rules:
Similar to basketball, there is a baseline and end line on the court to determine where the tennis ball goes out of bounds on either end (depending on which side the ball is served from).
There are singles side-lines and doubles side-lines to mark the sports court boundaries to determine when the ball has gone out of bounds.
There is a service line to determine where the ball should be served from.
Normally, a net is used for tennis, but a center line can also be used as an alternative. If a court is used for multiple sports, the center line is a must!
Markings for the Ad Court and Deuce court can be added as well.
Badminton Court Markings
As a sport, badminton shares quite a few rules and markings with Tennis. That being said, badminton court markings are equally as important to make an authentic experience when playing the sport!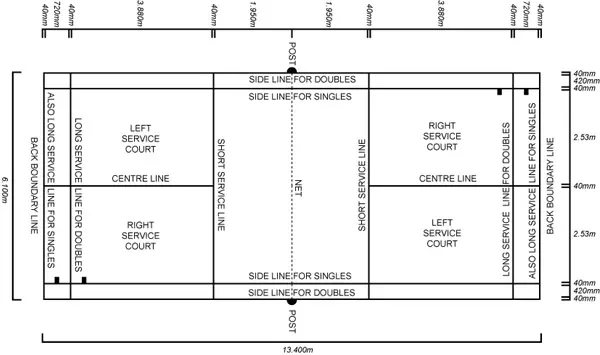 Badminton court markings are very similar to tennis markings. As you can see, there is the addition of short and long service lines to accommodate different levels of the sport. All in all, it's still an intense racket sport so the majority of the lines are identical!
These badminton and tennis court markings play a critical role in creating an authentic racket sport experience. If your sports court markings don't include these lines, it can make it extremely difficult for those trying to play the sport to determine where to serve and which shots go out of bounds. Seeing as there are some variations between the two sports, EverLine can paint tennis and badminton line markings in different colours to avoid any confusion between the two sports.
EverLine Can Paint Any Sports Court Lines You Need
We're here to help with all of your high-quality sports court line marking needs! At EverLine Coatings and Services, we can tailor our custom sports court marking services to meet any of your sports court markings needs.
We can paint lines for different sports using different coloured line-markings to avoid any confusion when playing on a multi-sport court. We are also able to create regulation-sized markings to ensure you have an authentic sporting experience. From NBA spec basketball court markings to ITF regulation lines for tennis court markings, we can paint anything and everything when it comes to sports courts.
Whether you're playing sports for fun or at a professional level, EverLine can deliver quality and excellence like no other. Thanks to our exclusive TBL Durable line painting product, we create quality line-markings that last from three to ten times as long as conventional oil and water-based paints respectively. These lines will help you make the most out of every game that you play.
We are more than just a painting company. If the surface of your court has seen better days, inquire about our crack filling and sealcoating services to repair your court, and protect your investment as well. EverLine is here to ensure that your court is ready to be enjoyed for years to come. If you're in need of any surface maintenance or line marking services, please contact EverLine today for a free quote.