Power Washing Services In Lethbridge and Southern Alberta
EverLine Coatings provides pressure washing services to multiple locations throughout Canada. Our professional and highly trained washers will leave your property looking new.
About our Power Washing Services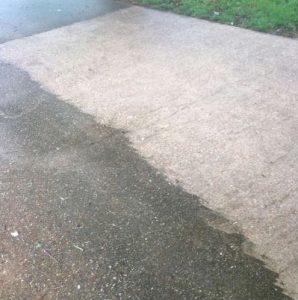 If your property has become dingy or just doesn't shine like it used to, EverLine Coatings has the solution for you! Our power washing services can have your property looking like new again, we only use the highest quality equipment available to ensure our customers' satisfaction and peace of mind. No need to do the scrubbing yourself, our power washing cleaning equipment can easily cut through dirt, grime, dust, stains and much more! Our crews have extensive experience cleaning sidewalks, patios, decks, all kinds of buildings and facilities, parking lots and parking garages.
If winter or the season has left your property covered in salt, gravel, stubborn grease or dirt, we can easily get it clean again. We have experience in cleaning a variety of properties and removing what the seasons have left behind.
Despite popular belief, not all power washing services are the same. At EverLine, we have an unwavering commitment to quality and delivering an end result that amazes. This is why we only use the highest quality and innovative power washing equipment and resources on the market. Another innovation we use at EverLine is the fact that our power washers use hot water. By using hot water, we are able to easily cut through any grime or dirt left on your surfaces more effectively. EverLine takes great pride in always being accommodating to your schedule and delivering exceptional service.
We are the Power Washing Experts
What makes EverLine experts in power washing services is our years of experience cleaning all kinds of surfaces and properties. In addition to our years of experience, we also are revered for our in-depth training programs. To ensure our power washing services are effective, we always make sure our crews are thoroughly and properly trained.
In order for our crews to provide effective power washing services, you can take a few steps in preparation. First, please ensure that the water at your property is turned on at your property. It would be impossible to do power washing without any water. Secondly, please ensure any obstacles or large pieces of debris are removed from the surface that we will be cleaning.
We always want to ensure that your business receives the best value on power washing services, this is why we do not offer flat-rate pricing. Instead, we choose to do our pricing on a per-job basis. We understand that there are many factors that affect the pricing of a power washing project, this is why we make sure to gather all the details of your project. By having all these details, we are able to render services within your budget. If you require a quote for a power washing project, please contact us.
Phone: (403) 393-1914
Address:
3643 32 St North Lethbridge
Alberta T1H 5S2
Contacts:
General Manager – Tyler Burgess
Surrounding Communities Serviced
Brooks
Lethbridge
Medicine Hat
Bow Island
Cardston
Claresholm
Coaldale
Coalhurst
Fort Macleod
Granum
Magrath
Milk River
Nanton
Nobleford
Picture Butte
Pincher Creek
Raymond
Redcliff
Stavely
Taber
Vauxhall
Vulcan
Brooks
Lethbridge
Medicine Hat
Bow Island
Cardston
Claresholm
Coaldale
Coalhurst
Fort Macleod
Granum
Magrath
Milk River
Nanton
Nobleford
Picture Butte
Pincher Creek
Raymond
Redcliff
Stavely
Taber
Vauxhall
Vulcan