Warehouse Floor Markings & Interior Line Painting Services in Southern Alberta, Lethbridge Areas
EverLine Coatings offers a number of warehouse floor marking services to Canadian businesses who need safety and production flow floor markings, plant and warehouse forklift traffic line markings and parking garage and parkade line painting.
About our Warehouse Floor Marking Services
EverLine is revered as one of the most professional warehouse floor marking companies in Canada. We can handle any kind of warehouse floor marking needs. We have worked in a large variety of environments and completed various safety and forklift traffic marking projects. Depending on your specific industry, our painting contractors are capable of customizing your floor marking project. Our expertise allows us to accommodate you in various ways, we can pair you with the right materials and fit your schedule. 
Since EverLine employs numerous professional warehouse floor marking crews, we are able to work quickly and efficiently with minimal disruptions to your business operations. With the help of the team at EverLine, we can help paint interior lines on a variety of surfaces like asphalt, concrete, brick and much more. No need to try spray painting lines yourself, the professionals at EverLine can help complete any project!
At EverLine, we have an unwavering commitment to quality workmanship. Our CORE quality system allows us to ensure that we exceed our client's expectations. The CORE abbreviation stands for Clear scope, Operations reports, Reach out and Evaluation. By adhering to this system we are able to maintain a high standard of excellent service. We always want to ensure that clients are involved in the work we are completing and that they can ensure quality throughout all the steps of our process.
It is just as important to us as it is to you that your business operations are as minimally impacted as possible. This is why we offer flexible work schedules which can be adapted to your availability so we can complete your interior painting project without disrupting your daily operations. We can arrange with you to complete your interior line painting project either overnight or on the weekend to best suit your business.
We always aim to provide quality, this is why we only use top-quality brands for our line painting products to ensure durability. We understand that high quality shouldn't always be associated with high cost, this is why we balance durability and affordability. We take a value focus approach to all of our interior line painting projects to bring quality work at an affordable price.
We are the Warehouse Floor Marking Experts
We understand that safety, stock location, and plant/warehouse forklift traffic line markings are a very important part of any operational production or distribution facility. We have successfully completed a variety of safety and production flow floor markings using products that range from paint to epoxy and even urethanes! We always ensure to apply coats of paint precisely that way they are durable and keep that fresh coat of paint look. 
We pay extra attention to all of the details to ensure our clients are matched with the right materials and durability expectations. Our recommendations are based on tried and proven methods to ensure everyone's satisfaction. The same high quality mindset we bring to our parking lot painting, commercial painting or even our asphalt crack filling and seal coating, we bring to our interior line painting projects.
There are a few steps your business can take prior to our interior line painting crews' arrival. Firstly, please ensure that the floor we will be performing interior line painting on is clean and free of obstacles and debris. This will help ensure longevity and timely completion. Secondly, it is strongly recommended to put up notices of our crew arriving for work to ensure a safe working environment.
Warehouse Floor Markings Pricing
Since each project can drastically, we do offer standardized pricing for our warehouse floor marking service. Instead, we choose to do our pricing on a per-job basis. We understand that price can fluctuate based on the volume, difficulty, traffic and materials used on-site. We have experience working with a variety of businesses all with different budgets. This makes us confident we can work with your budget to render services without compromising quality. If you require a quote for an interior line painting project, please contact us.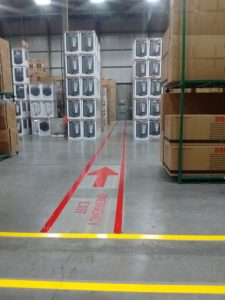 Phone: (403) 393-1914
Address:
3643 32 St North Lethbridge
Alberta T1H 5S2
Contacts:
General Manager – Tyler Burgess
Surrounding Communities Serviced
Brooks
Lethbridge
Medicine Hat
Bow Island
Cardston
Claresholm
Coaldale
Coalhurst
Fort Macleod
Granum
Magrath
Milk River
Nanton
Nobleford
Picture Butte
Pincher Creek
Raymond
Redcliff
Stavely
Taber
Vauxhall
Vulcan
Brooks
Lethbridge
Medicine Hat
Bow Island
Cardston
Claresholm
Coaldale
Coalhurst
Fort Macleod
Granum
Magrath
Milk River
Nanton
Nobleford
Picture Butte
Pincher Creek
Raymond
Redcliff
Stavely
Taber
Vauxhall
Vulcan