Power Washing in Scarborough (Toronto East)
EverLine Coatings and Services happily offers professional and quality pressure washing services to the properties and businesses in Prince Edward Island. Our highly-trained crew members can help return your property to a sparkling, clean state.
About Our Scarborough Power Washing Services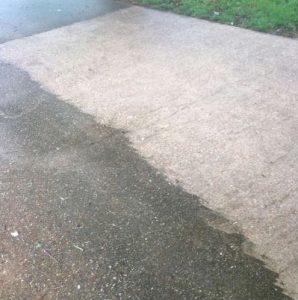 If your property has become dingy or just doesn't have the same shiny curb appeal it used to, power washing may be the ideal solution for you. EverLine Coatings offers power washing services that can have your property looking like new again. We use the highest quality equipment to make sure your property shines. Our crews have extensive experience power washing sidewalks, decks, fences, patios, driveways, all kinds of buildings, parking lots and parking garages. So whether your surface is brick, metal or concrete, we have resources and equipment to get it clean again.
If winter or any of the seasons have left your property or parking lot covered in salt, gravel or dirt, we can easily get it clean once again. Our crews have experience in cleaning all kinds of properties and removing whatever the elements have left behind. If you need assistance getting your business ready for spring or any occasion, our power washing crews can help.
Contrary to popular belief, most power washing services are not the same. EverLine has an unrelenting commitment to quality and delivering an end result that surpasses expectations. This is why we only use the highest quality and most innovative power washing equipment available. One of the innovations we use here at EverLine is we use hot water in our power washers. By using hot water, we are able to cut through the grime and dirt left on your surfaces to truly make your property shine.
We are the Power Washing Experts
Here at EverLine, what makes us experts in our field is our years of experience cleaning all kinds of surfaces and properties. To ensure that our power washing services are rendered at a high standard of excellence, we make sure all our technicians are thoroughly trained with our in-depth programs. As a result, we take pride and have a strong sense of achievement when it comes to our services.
In order to make sure that our crews can provide the most effective power washing service, there are a couple of steps you can take prior to our crew's arrival. Firstly, please ensure that the water at your property is turned on, after all, it would be difficult to do any washing without water. Secondly, please clear any obstacles or larger pieces of debris from the area we will be cleaning.
Here at EverLine Coatings and Services, we place huge importance on ensuring every single customer we work with receives the best value on their power washing services. It is because of this importance that we do not offer flat-rate pricing, instead, we customize our pricing on a per-job basis. We understand that there are a variety of factors that can affect the pricing of a project, this is why we take the extra time to know the little details of a project before we provide a quote. We make it our mission to ensure that our customers have complete satisfaction when it comes to their power washing needs. If you would like a quote for your power washing project, please contact us.
Scarborough (Toronto East) EverLine Office
Phone: (416) 358-5850
Address:
51 Danjohn Crescent
Scarborough, ON, M1V 3N2
Contacts:
General Manager – Kovi Sriskanda
Surrounding Communities Serviced
Scarborough
West Hill
Port Union
Golden Mile
Agincourt
Rouge
Clairlea
Milliken